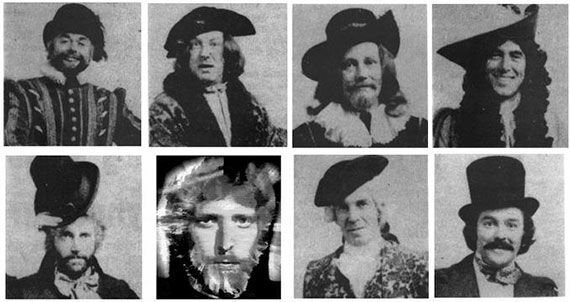 DOCTOR: En garde, Morbius.

(The Doctor switches it on. The circle fills with images, first of Morbius and how he originally looked, then the Doctor and his previous incarnation.)

MORBIUS: Is your mind, Doctor, going?

SARAH: Doctor.

MORBIUS: How far, Doctor? How long have you lived?

(Patrick and Bill, then a man with a moustache, someone with a powdered wig.)

MORBIUS: Your puny mind is powerless against the strength of Morbius.

(More faces, including a William Shakespeare lookalike. Presumably these are Morbius' previous appearances.)

MORBIUS: Back. To. The. Beginning!

(Then there is a bang inside his braincase and it fills with smoke. They both disconnect, and Morbius staggers away. The Doctor falls sideways.)
This thread originally started as a way of discussing whether the Morbius faces were of the Doctor or not:

Our survey final count said

Yep! Why not? We can fit them into the mythology... somehow!: 7
No, you idiot! They are all non-canon - or earlier faces of Morbius!: 7

But since then Chibnall has decreed - albeit in fast and furious flashback that they were, indeed, the faces of the Doctor!

But do you agree with his - and the BBC's official creative decision on this matter?
1. CHRISTOPHER BAKER
2. ROBERT HOLMES:
3. GRAEME HARPER:
4. DOUGLAS CAMFIELD:
5. PHILLIP HINCHCLIFFE:
6. ROBERT BANKS STEWART:
7. GEORGE GALLACCIO:
8. CHRISTOPHER BARRY:
http://www.hypnogoria.com/html/morbiusdoctors.html
And Chibnall's solution:
See also.......
Regeneration Limit: How Long Should the Doctor Live?:
viewtopic.php?f=11&t=7529
.