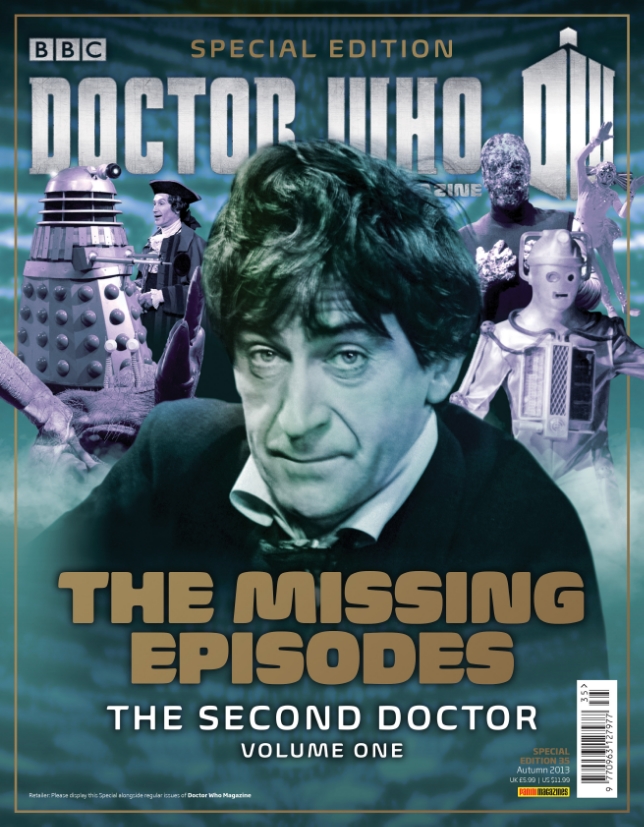 Doctor Who Magazine Special Edition: The Missing Episodes – The Second  Doctor –  Volume 1
The latest special edition of Doctor Who Magazine presents the earliest adventures of the Second Doctor, Patrick Troughton, in pictorial form!
Sadly, 106 Doctor Who episodes from the 1960s aren't currently held in the BBC's archives. The original videotapes were erased, and although film recordings for many early episodes were retained, others seem lost forever.
Fortunately for fans, some of these missing episodes survive in telesnap form – these are photographic images that were taken of television screens as the stories were originally broadcast. This 116-page Special from Doctor Who Magazine presents the earliest stories from the Second Doctor's era in the form of telesnaps, featuring the stories THE POWER OF THE DALEKS, THE HIGHLANDERS, THE UNDERWATER MENACE, THE MOONBASE, THE MACRA TERROR and THE FACELESS ONES .
There's also a fascinating feature by researcher and author Richard Molesworth, which reveals how some missing episodes of Doctor Who have miraculously been found and returned to the archives over the years.
Fill the gap in your collection, with Doctor Who Magazine: The Missing Episodes – The Second Doctor Volume 1! The magazine is out now, price £5.99.
Thanks to Tom Spilsbury