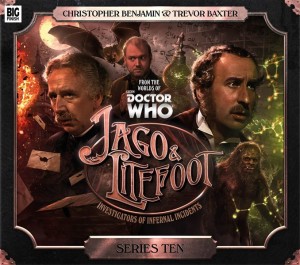 Is it October already? Certainly is and that means that it's time for the second release this year of the bi-annual box set of brilliance – the CD's of surreptitious superiority… the downloads of diabolical deftness… the arrival of astronomical amounts of alliteration. Yes indeed, my lords, ladies and gentlemen, please give a warm welcome to Professor George Litefoot and Mr Henry Gordon Jago, ably assisted by Miss Ellie Higson and Inspector Quick. Ladies and Gentlemen, please give a warm Planet Mondas welcome to Jago and Litefoot Series 10.
Ten series. Forty episodes, three specials and a companion chronicle – not a bad legacy for a pair of characters who appeared on-screen in Doctor Who only once back in 1977, and with another series on the way in April these venerable Victorian's voracious appetite for adventure doesn't appear to be letting up!
Some episodes of a TV show are classed as "event TV" – the arrival of a new Doctor, a regeneration, a season finale, a live episodes of venerable old soaps, the death of a much loved character, well with Jago and Litefoot every release is an "event release". They are by far my favourite of the Big Finish ranges – the warmth, the humour, the camaraderie, the alliteration – I feel like I know Henry and George, that I could transport myself back in time to the Red Tavern and happily partake in a loquacious libation served by the lovely Miss Higson whilst being regaled with theatrical anecdotes by Jago, as Litefoot good naturedly rolls his eyes. This is a testament not only to Robert Holmes who created them, but to all the writers at Big Finish who took the source material and grew the legend and in Series 10 it seems that they have become a bit of a legend, so well known in fact that they have a biographer – the mysterious (and quite annoying) Carruthers Summerton (Toby Hadoke) – in fact, Carruthers is their greatest fan…
 The story plays out as always over four linked plays and they are:
The Case of the Missing Gasogene by Simon Barnard & Paul Morris
A lovely way to start the set, pure classic Jago and Litefoot – an odd murder, larger than life characters and a mystery that isn't really what it seems…
Our heroes (with Carruthers in tow) are called to the home of Sir Hartley Harecourt to investigate the murder of his servant – thing is he was killed in a locked room. A classic locked room mystery you might think? Think again. This is Jago and Litefoot and it is far more interesting than that, in fact the whole mystery hinges upon an old soda syphon that Sir Hartley has had stolen.
A great season opener – and it sets up an interesting dynamic for the rest of the series. Carruthers is irritating and manipulative, latching on to both George and Henry's ego to turn them against each other, they spend much of the adventure investigating separate threads. But what is Carruthers agenda? is he really their biggest fan, or does he have other reasons to follow our heroes? All will be revealed further on in the set….
The Year of the Bat By Jonathan Morris
As long-time readers will know I do not like time travel cheat stories. Not one bit. And I inwardly groaned when I read the premise of this one.
Professor Litefoot receives delivery of a mysterious box called a "Yesterday Box" in which letters can be posted back in time to your younger self. This leads to a hitherto unseen adventure set some thirty years prior to the 1890's with a younger Jago (Alex Lowe) and a younger Litefoot (Blake Ritson) separately inverstigating the kidnappings of children and fearsome floating Nanny's. But wait I hear you say – Messers J & L didn't meet until Episode Five of The Talons of Weng Chiang – and you are right, they didn't – their present selves even reference this. In fact the whole story plays out like a Brian Rix farce with near misses of our heroes younger selves – it's a complete hoot. Is it a cheat? Yes of course it is, the ending is a complete and utter cheat – but you know, the story telling is just so darned good I just don't care.
The Mourning After by James Goss
Henry Gordon Jago is dead. Yes, you read correctly. Dead. Killed by a dart from a mysterious blowpipe. Ellie and Professor Litefoot attend his funeral and it's incredibly moving to hear George trying to keep his emotions in check and retain the facade of Victorian respectability whilst he has lost his old friend. Trevor Baxter is on top form here. Jago on the other hand has other ideas about being dead, he wakes up in his coffin and is rescued by a mysterious woman Adella LeStrange (Camilla Power). The problem is Mr Jago has been buried for 100 years and Adella is one of the last surviving humans after a plague of Zombies started ravaging the earth soon after Jago's apparent demise.
Back in Victorian times Litefoot is once again teamed up with Doctor Luke Betterman (David Warner) in what almost becomes a Jago and Litefoot take on Shaun of the Dead. Litefoot, Betterman, Ellie and Quick are holed up in the Red Tavern fighting off an army of Zombies – but who is responsible for them? Is Doctor Betteman all he seems? A great story, told in two different time zones, it's Shaun of the Dead meets V for Vendetta meets The Good Old Days (the "next scene" joke at Jago's wake is hilarious) and this mish-mash of styles works as James Goss makes them his own. Fab!
The Museum of Curiosities By Justin Richards
As the evidence against Doctor Betterman continues to mount our heroes (accompanied once again by Carruthers) investigate a bizarre series of seemingly unconnected murders that lead them one step at a time to the Museum of Curiosities, a most singular museum. A most curious museum. But who is its owner and why do all the exhibits – ah, but that would be telling…
A very strong season finale – this one has it all, murder, mystery, peril, alliteration and a nice pint at the Red Tavern as well. It keeps you listening right until the last moment as there is a cliffhanger leading into Series 11 that will make your jaw hit the floor…
So 10 series is as strong as ever. This range has not put a foot wrong; the pace, the characterisation, the acting, the music, is all a cut above and whilst I am sad that series 10 has ended, next month we have the much anticipated "Jago & Litefoot & Strax" – oh my! – to look forward to, and then there is that cliffhanger at the end of Series 10 to be explored further.
Overall a corking cavalcade of clever creativity and crafty capers. I have no hesitation at all in awarding this 10/10.
Written by Ed Watkinson.
SYNOPSIS:
The Case of the Missing Gasogene By Simon Barnard & Paul Morris
Investigating the death of Sir Hartley Harecourt's manservant, Jago and Litefoot are caught up in an intriguing locked-room mystery. It's a mystery that involves strange experiments, mysterious scientific formulae, our heroes' greatest admirer, and a missing soda siphon…
The Year of the Bat By Jonathan Morris
When a strange package is delivered to Professor Litefoot, he has no idea of the far-reaching implications. Soon Litefoot and Jago find themselves enmeshed in a series of events that began thirty years ago – events their younger selves have already been caught up in…
The Mourning After By James Goss
Litefoot is surprised to meet an old friend. But celebrations are rather muted as he and Ellie have just been to the funeral of Henry Gordon Jago. But is Jago really dead? Or has he somehow been transported into a nightmarish future? The truth is both elusive and deeply worrying…
The Museum of Curiosities By Justin Richards
At last Carruthers Summerton – the greatest admirer of Jago and Litefoot and their would-be biographer – gets to accompany his heroes on an investigation. But amongst the bizarre murders and strange clues lies a much deeper and far more dangerous mystery. Unsure who they can trust, Jago and Litefoot will find out the truth at the Museum of Curiosities…
CAST:
Christopher Benjamin (Henry Gordon Jago), Trevor Baxter (Professor George Litefoot), Lisa Bowerman (Ellie Higson), Conrad Asquith (Inspector Quick), Toby Hadoke (Carruthers Summerton), John Rowe (Sir Hartley Harecourt), Rosanna Miles (Hetty Kindred/Nancy/Shopkeeper), Ewan Bailey (McCallum/Mr Grayson/Sergeant Quick Senior/Priest/Galbraith/Cooper/Constable Roberts), Alex Lowe (Young Jago/Jasper Cornish/Billy), Blake Ritson (Young Litefoot), Tracy Wiles(Lilith Lovett), Camilla Power (Adella) and David Warner (Dr Luke Betterman). Other parts played by the cast.
Written By: Simon Barnard, Paul Morris, Jonathan Morris, James Goss, Justin Richards
Directed By: Lisa Bowerman
Producer David Richardson
Script Editor Justin Richards
Executive Producers Jason Haigh-Ellery and Nicholas Briggs