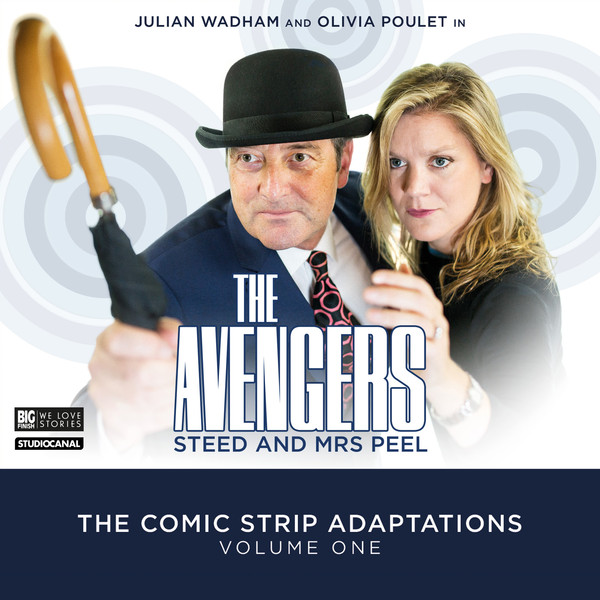 Mrs Peel, were needed! The four words that defined my TV experience in the early 1990's. I sort of remembered The Avengers from the early 1980's but it was the repeats on Bravo in the early 1990's that made me a fan. What isn't there to like about The Avengers, especially the Emma Peel era? It had everything, dapper clothes, groovy theme tune, fast paced sparkling dialogue, utterly bonkers plots – and I do mean utterly bonkers – I can well remember Epic, an episode where an insane film director wants to make a film of Mrs Peel's life, or Something Nasty in the Nursery or The Cybernauts – all complete with mad over-the-top camp as Christmas villains played by wonderfully plummy eccentric British character actors. On top of this you had the chemistry between Steed and Mrs Peel.  Patrick Macnee and Diana Rigg just worked, a perfect double-act, the characters just bounced off each other, the dialogue was wry, witty, filled with innuendo, and charming, an iconic pair of TV heroes for the ages – when people remember The Avengers it is usually the Steed and Peel era they refer to – that's how iconic they are.
So it was with a sense of wonder that I found out last year that Big Finish were adapting the Comic Strip adventures for audio – Julian Wadham would be reprising the role of Steed but who would be playing the iconic Mrs Emma Peel? We needed a cut glass voice, a sense of fun, a sense of the wry and the absurd, excellent comic timing and more than anything else, chemistry with Julian Wadham – and Big Finish got the casting pretty nigh on perfect with Olivia Poulet, she is all these things and much more, she is a fabulous actress who has completely immersed herself in the character of Mrs Peel, and made her her own without having to impersonate the great Dame Diana Rigg – yes indeedy Wadham and Poulet are Steed and Peel. Close your eyes and listen to the theme music, you'll be transported to a world of slightly over-saturated film, champagne, high fashion, Bentleys and bonkersness, because once again – "Mrs Peel, we're needed".
 As is the tradition with Big Finish the set is split in to four stories:
Return to Castle De'ath by Simon Barnard and Paul Morris
Steed and Peel return to Castle De'ath and become embroiled in a plot involving a foreign Prince, an eccentric Colonel, a mysterious Countess and a dour Hotel owner and her mute manservant. This is pure 1960's kitsch as Prince Abdul Bey (Sam Kordbacheh) is repeatedly the subject of assassination attempts – Mrs Peel joins forces with the eccentric Colonel Augustus-Smyth (played with camp joy by Simon Greenall) to unmask who is behind the mysterious ghostly Piper. This is a delightfully silly opening to the set with all the cast completely on form; it's completely authentic and faithful to the ethos of season 4 and 5 of The Avengers with the dialogue, music, everything! There is a joy to the proceedings that is infectious, this made me smile – not just a mouth smile but a warm growing whole smile – brilliant.
The Miser by Simon Barnard and Paul Morris
When a train almost crashes and the passengers are taken off unconscious the mysterious "Miser" makes an announcement that this is only a warning and he will wreak havoc again if all the money in all the Banks in England are not handed over to him – Sounds like a job for Steed and Mrs Peel! This story is completely "Avengers", it has a rather silly megalomaniac with bizarre motivation, it has Mrs Peel in b-movie peril, though she isn't really that bothered, it has Steed facing off against flame thrower wielding Scarecrows – what else do you need? Okay it is again wonderfully acted and completely authentic to the 1960's – the plot moves very very quickly and rather a lot happens in the 50 minutes or so running time – the last scene in which the villains are defeated is a delight. In fact you can sample the episode HERE and I suggest that you do!
The Golden Dresses by Paul Magrs
Now for something as zany and left-field as The Avengers, this is left-field. Madame Zingara (Jacqueline Pearce) is the purveyor of haute couture to ladies of society – but the ladies of society seem to be losing their husbands, and it turns out the husbands that they are losing are men with very high ranking jobs in security. Steed and Peel investigate and discover – wait for it – that the ladies of society are being brainwashed by the golden dresses created for them by Madam Zingara. See, I told you this one was super bonkers and it really is! A slice of cold war craziness with traitorous British sailors and confused Russian tailors. Magic!
The Norse Code by John Dorney
Closing the set is something quite bizarre – a trip to the Norfolk Broads for Steed and Peel in search of a missing agent uncovers a plot by a long hidden cult of Vikings to take back England from the Saxons! Yes, you read it right… cue Steed dressed as a Viking complete with a false beard and Mrs Peel as a Milkmaid (just go with it), as the small Norfolk Village complete with Yokel pub landlord, eccentric English Professor Oswald English, would-be Viking Kings and Valkyries, all vie for scenery chewing time with Steed and Peel. It even has longboats launching to Wagner's Ride of the Valkyries – which Professor English points out is actually German. It's a hoot from beginning to end.
Authenticity is the watchword with this set, from the chemistry between Steed and Peel, to the "We're Needed" scenes to the "tag" scenes at the end of the episodes – everything is as it should be. I am not really a comic book fan, I find them flat and lifeless – Big Finish have taken the comic books off the page, made them three dimensional and given them heart, soul and joy – just as they should be. Now excuse me whilst I furl my brolly, crack open a bottle of Bollinger 1934 and award this exceptional box set 10/10. Mrs Peel, we're needed. And with this sort of quality I hope that Wadham and Poulet are needed for a very long time.
Written By Ed Watkinson
SYNOPSIS:
This title was released in April 2016, and will be exclusively available to purchase from the BF website until 31st May 2016.
Recreations of the comic strip adventures of Steed and Mrs Peel which appeared in Diana magazine in 1966 and 1967.
Return to Castle De'ath by Simon Barnard and Paul Morris
Steed is left hanging, Emma pays the piper.
Steed and Peel return to the scene of an earlier adventure to find it much changed. Now a ski-resort, Castle De'ath is playing host to many new visitors – including a wealthy Prince targeted by assassins.
Assigned as bodyguards, the Avengers have to keep the Prince alive and discover which of the Castle's guests are behind the murderous plot – before they succumb to it themselves.
The Miser by Simon Barnard and Paul Morris
Steed has a nasty scare, Emma has a pressing engagement
When the phrase 'sleeper train' takes on a very literal meaning, Steed and Peel witness the first action of The Miser, a terrifying extortionist.
The race is on to stop his ambitious scheme – but in this case, appearances can be deceptive.
The Golden Dresses by Paul Magrs
Emma hits the heights of fashion, Steed plumbs the very depths.
The ladies of society can't get enough of Madame Zingara's Golden Dresses. Especially now their husbands have gone missing.
Steed and Peel look into the world of haute couture to discover the dark secret of this latest craze. Can they pull it off with style?
The Norse Code by John Dorney
Steed has the horns of a dilemma, Emma milks her moment.
An agent has gone missing whilst holidaying in the Norfolk Broads. With an American nuclear bomb being stored in the region, Steed and Peel can't take any risks.
But the last thing they expect to find on their boating trip is a Norse longboat. What are Vikings doing in East Anglia?
CAST:
Julian Wadham (John Steed), Olivia Poulet (Emma Peel), Sam Kordbacheh (Prince Abdul Bey), Shelia Reid (Morag McIntosh/Matron), Allan Corduner (James McTaggart/Murdoch/Crabtree), Ruby Thomas (Countess Beatrice of Burgundy) ,Simon Greenall (Colonel Augustus-Smyth), Jeremy Clyde (The Miser), Graham Seed (Dick North), David Acton (Montague Pratt/Air Marshall Cuthbert Fortescue), John Banks (Dave/Squire Trevitick/Train Guard), Phillip Pope (Derek/Reg the Trainspotter/Newsreader) Jacqueline Pearce (Madame Zingara), Becky Wright (Bunty/Nurse), Christopher Naylor (Emil/Sailor), Nick Underwood (Anton/Rough Sailor/Announcer), Timothy Speyer (Oswald English/Captain Jolleye/Radio Presenter), Ewan Bailey (Ivan Stevenson/Venka/Newsreader), Francesca Hunt (Ingrid Thornton/Brunhilda), Jot Davies (Wellington). Other parts played by the cast.
Written By: Simon Barnard, Paul Morris, Paul Magrs, John Dorney
Directed By: Ken Bentley
Producer David Richardson
Script Editor John Dorney
Executive Producers Jason Haigh-Ellery and Nicholas Briggs