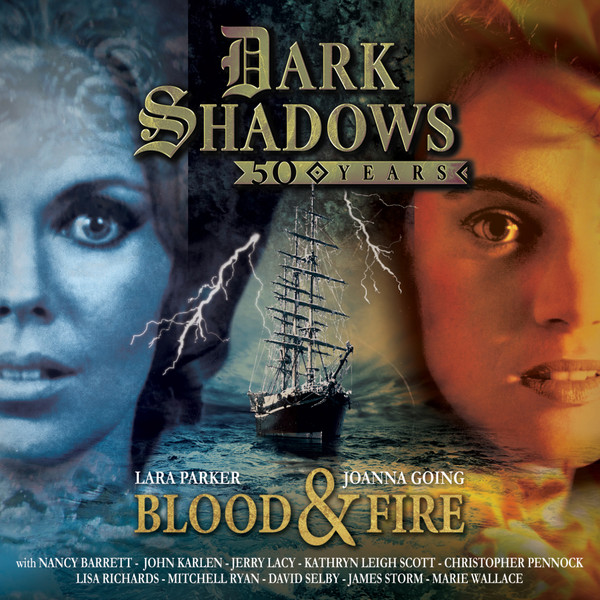 50th Anniversaries – we love them don't we? The grand daddy of them all was obviously our beloved Doctor Who's 50th bash, but this year sees the 50th Anniversary of an altogether more obscure offering, that of Dark Shadows.
 For those unfamiliar, a potted history – Dark Shadows was a daily Gothic soap opera that followed the story of the Collins family from the town of Collinsport Maine. It ran for 5 years between June 1966 and April 1971. This was a soap with a difference, it had a brooding gothic feel akin to Daphne Du Maurier's "Rebecca", permanently autumnal and brooding – it also featured Vampires, Werewolves, Ghosts, Phoenix, Time Travel, Parallel Universes. Think Dynasty meets the Addams Family, meets Buffy meets Jane Austen and you wont be far from the mark.
 With the series ending in 1971 after 1225 episodes (all of which are available on DVD), a 1990's revival killed by poor scheduling and a played for laughs Tim Burton big screen version it fell to the ever reliable Big Finish to keep the flame alive. And boy have they done that.
 Before reviewing the 50th Anniversary story "Blood and Fire" I think its worth taking a look at the Dark Shadows range and picking out a few choice stories to reel in the uninitiated.
 There are three distinct strands to the Dark Shadows releases – full cast, dramatic readings and Bloodlust. The bulk of the releases are the dramatic readings, for long time Big Finish fans who have not dipped their toes into Dark Shadows these are akin to the Doctor Who Companion Chronicles releases, one actor from the show interacting with another character, they are deep, character based stories and here are five of the best:
 The Wicked and the Dead by Eric Wallace
 The evil Reverend Trask wakes in a room in the house of Collinwood, he has been bricked up and left with a revolver as his only means of ending things – the ghost of Carl Collins appears to give him a chance at redemption.
 London's Burning by Joseph Lister
 Quentin Collins meets up with his old friend Rosie Faye (Louise Jameson) during the Blitz in 1941, trapped in an underground station they reminisce about the time that they both investigated cases of spontaneous human combustion.
 The House by The Sea by James Goss
Colin Baker plays Gerald Conway, a new resident of Collinsport. He has had visions of a house by the sea for months and now he has found it. Genuinely creepy, played as a set of audio diaries – don't listen alone. Really. Don't.
 Beyond the Grave by Aaron Lamont
Possibly THE most frightening thing I have experienced – like an audio version of Ghost Watch, this one pulls no punches, its utterly terrifying.
 Panic by Roy Gill
A Quentin Collins story again and a rather sweet one in a funny sort of way – a dark fairy tale in a Pan's Labyrinth meets Narnia sort of way – has to be heard to be appreciated.
 I can also highly recommend Bloodlust  a 13 part mini-series done in the style of a soap opera – its rather epic and centres on a series of murders – episode one is free here  and really sets the scene – the story is a classic murder mystery in the style of Broadchurch or Twin Peaks with a very Collinsport twist.
 Anyhow, thats the past, and a very rich past it is too – but this review is meant to be about the future – but this future is actually set in the past. Am I making sense? I will be (hopefully) if you read on.
 From the introduction of Barnabas Collins in the second year of Dark Shadows, the series moved up a gear, you see Barnabas was a Vampire, and he had a story. Cursed by his spurned lover the witch Angelique Bouchard (Lara Parker) their story set the tone for all gothic vampire romances to follow – Angelique hated Barnabas as much as she loved him and in this 50th anniversary story Angelique is given the opportunity to destroy the Collins family forever.
 Angelique is sent back in time by her master The Dark Lord (the Devil to you and me) to the year 1767 – Collinsport is a small fishing town, Collinwood House is still in the process of being built and a young widow Laura Murdoch Stockbridge (Joanna Going) is about to marry in to the Collins family. This has a period drama feeling, albeit a period drama with Zombies, Witchcraft, magic and time travel – I can imagine it as a lavish HBO production shown on Sky Atlantic and being billed as event TV. It has a HUGE cast of Dark Shadows alumni but the leading ladies steal the show, the Blood & the Fire of Angelique Bouchard & Laura Stockbridge. – two very powerful ladies who will in time shape the future of the Collins family – this is the very beginning, as early in the Collins' story as we have gone and Angelique's mission for her Dark Lord is hampered not only by history yet to come, but also by her love for Barnabas who if she succeeds will never be born – can her love be stronger than her hate?
 There is a lot here to adore for fans of Dark Shadows – its not quite a "Rabbit Hole" story to suck you in to the world of Barnabas, Angelique & Quentin – there is an awful lot of Collins family continuity tied up in the two and a half hour running time and long time fans will ohh and ahh there way through each actor who suddenly appears as one of their own ancestor whilst knowing the fate of poor tragic Laura has to happen.
 What really comes through in the writing is the great love that Roy Gill has for Dark Shadows and the care and attention to detail he lavishes on to the production – every thing is utterly faithful and beautifully constructed, Roy obviously cares a great deal about the show and its legacy, and I am happy to say that the future of Dark Shadows is safe in his and Big Finish hands. It also has a brilliant Elvira joke.
 Gothic, romantic and thrilling a period piece that goes back to the beginning whilst setting the tone for a new beginning, the blood pumps and the Phoenix rises and I award this sumptuous celebration 9/10.
Written by Ed Watkinson
Synopsis
This title was released in June 2016. It will be exclusively available to buy from the BF website until July 31st 2016, and on general sale after this date.
A two-hour adventure celebrating 50 years of Dark Shadows!
"Some are born with magic, some acquire magic, and others have magic thrust upon them…"
The year is 1767. Young widow Laura Murdoch Stockbridge is to marry Joshua Collins, heir to the Collins fortune. Meanwhile, Joshua's sister Abigail is in love with disreputable sailor Abraham Harkaway.
But the course of true love never did run smooth… especially when the witch Angélique Bouchard is around.
For Angélique has been sent back in time. And she has one mission…
To destroy the Collins family forever.
Featuring cast from the original television series, Blood and Fire is a special audio drama to celebrate the 50th Anniversary of Dark Shadows.
Written By: Roy Gill
Directed By: Ursula Burton & Joseph Lidster
Cast
Lara Parker (Angélique Bouchard), Kathryn Leigh Scott (Patience Collins), Mitchell Ryan (Caleb Collins), Joanna Going (Laura Murdoch Stockbridge), Andrew Collins(Joshua Collins), Daisy Tormé (Abigail Collins), James Storm (Abraham Harkaway),Lisa Richards (Euphemia Spencer Stockbridge), Christopher Pennock (Uriah Spencer Stockbridge), Marie Wallace (Dorothea Summers), Nancy Barrett (Isobel Collins), David Selby (Theodore Collins), Matthew Waterhouse (Reverend Samuel Cunningham) and Jerry Lacy (Malachi Sands) with John Karlen (Alfred Loomis),Ursula Burton (Peggy Griffin), Alexandra Donnachie (Sarah Filmore), Scott Haran(Lamech Gifford), Walles Hamonde (Roderick Haskell), Daniel Collard (Robert Hanley), Michael Shon (Wolf) and Natalie Britton (Storm Elemental).
Produced by David Darlington, Joseph Lidster
Line Producer: David Richardson
Executive Producers: Jason Haigh-Ellery, Nicholas Briggs