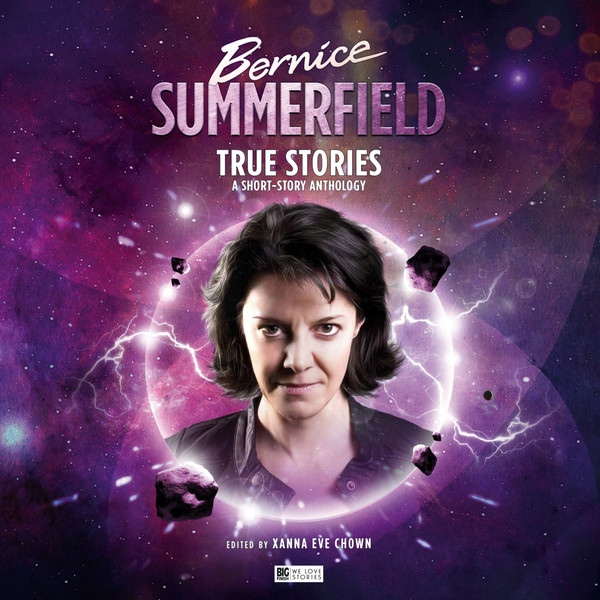 Big Finish, with these Bernice Summerfield releases you are spoiling us!
 Well they are. Not one but two releases featuring the universes premier archaeologist and alcohol consumer  within a month, I never get tired of listening to the adventures of Bernice Summerfield, and this release is a delight to listen to.
 Completely different from the full cast audio drama set of Ms Summerfield's latest adventures with Unbound Doctor David Warner, but set in the same "Unbound" universe this set of tales has Bernice having her own misadventures whilst The Doctor is off being President of the Universe and trying to work out a way of preventing its total collapse.
The stories told by Bernice herself Lisa Bowerman under duress, as Benny is in a spot of bother, she is up in court and to her neck in bother and to calibrate the jury she has to tell six stories, three true and three false, a rather clever framing device for six stories of bizarre happenings, archaeology, drinking, dating, invasions and a rather fetching blue-rinse hair do. Its that sort of set of stories.
 In my experience there are two types of science fiction fans, those who take the Arthur C Clarke route and those (like me) who take the Douglas Adams route, and I think it is safe to say that the C Clarke faction will find this set not entirely to their taste, but the Adams crowd will lap it up because it is supremely silly and has a sense of scale and wonder on the one hand and a wonderful obsession with the mundanity of existence and the ordinariness and frustration of existence on the other none mores than the fifth story in the set Stockholm From Home in which Bernice finds herself trapped in an old peoples home, subjected to the indignity of having a hairdo having missed Bingo night, is constantly spam messaged by an alien from a dating app and has to contend with a rather sub parr invasion plan. You get the idea.
 The stories are given life, shape and colour by Lisa Bowerman, no one else could be Bernice, she just inhabits the part her synchronicity with the character is such that you can just see Benny's withering looks and raised eyebrows through her narration, the best companion that The Doctor ever had and we are so fortunate to have her continuing adventures.
 A joy from beginning to end, a madcap mix of misadventure and mirth as Mr H.G Jago may say and a very true to form 9/10 from me.
Written by Ed Watkinson
Synopsis
This title was released in September 2017. It is exclusively available to buy from the BF website.
This audiobook reading comes directly from Big Finish's hardback and e-Book release Bernice Summerfield: True Stories which is also available.
Bernice Summerfield: True Stories features six stories about everyone's favourite archaeologist, with unusual digs, daring missions and more, all set in the Unbound Universe of the recent audios. The writers are Jon Blum & Rupert Booth, Xanna Eve Chown, Tim Gambrell, Matthew Griffiths, Kate Orman & Q, and Victoria Simpson.
Archaeologist, adventurer, mother, and occasional goddess, Professor Bernice Surprise Summerfield has seen and done more things in this universe than you can possibly imagine. But none of that matters right now. Because, Benny isn't in this universe any more. Right now, she's stuck in an alternate universe (through no fault of her own) and this universe has definitely seen better days. In fact, it's rumoured to be dying. Luckily, the President of the Universe is an old friend, and he's lent her a spaceship so she can carry on doing what she does best: righting wrongs, making mistakes, saving lives, drinking… These stories won't tell you how – or if – she makes it home. But they will tell you about some of her adventures in this unbound universe. Some of them are even true…"
Hue and Cry by Kate Orman and Q
Never The Way by Jonathan Blum and Rupert Booth
Fast Contact by Matthew Griffiths
Futureproof by Victoria CW Simpson
Stockholm From Home by Tim Gambrell
Bliss by Xanna Eve Chown
Produced by David Richardson
Written By: Jon Blum & Rupert Booth, Xanna Eve Chown, Tim Gambrell, Matthew Griffiths, Kate Orman & Q, and Victoria Simpson
Cast
Read by Lisa Bowerman