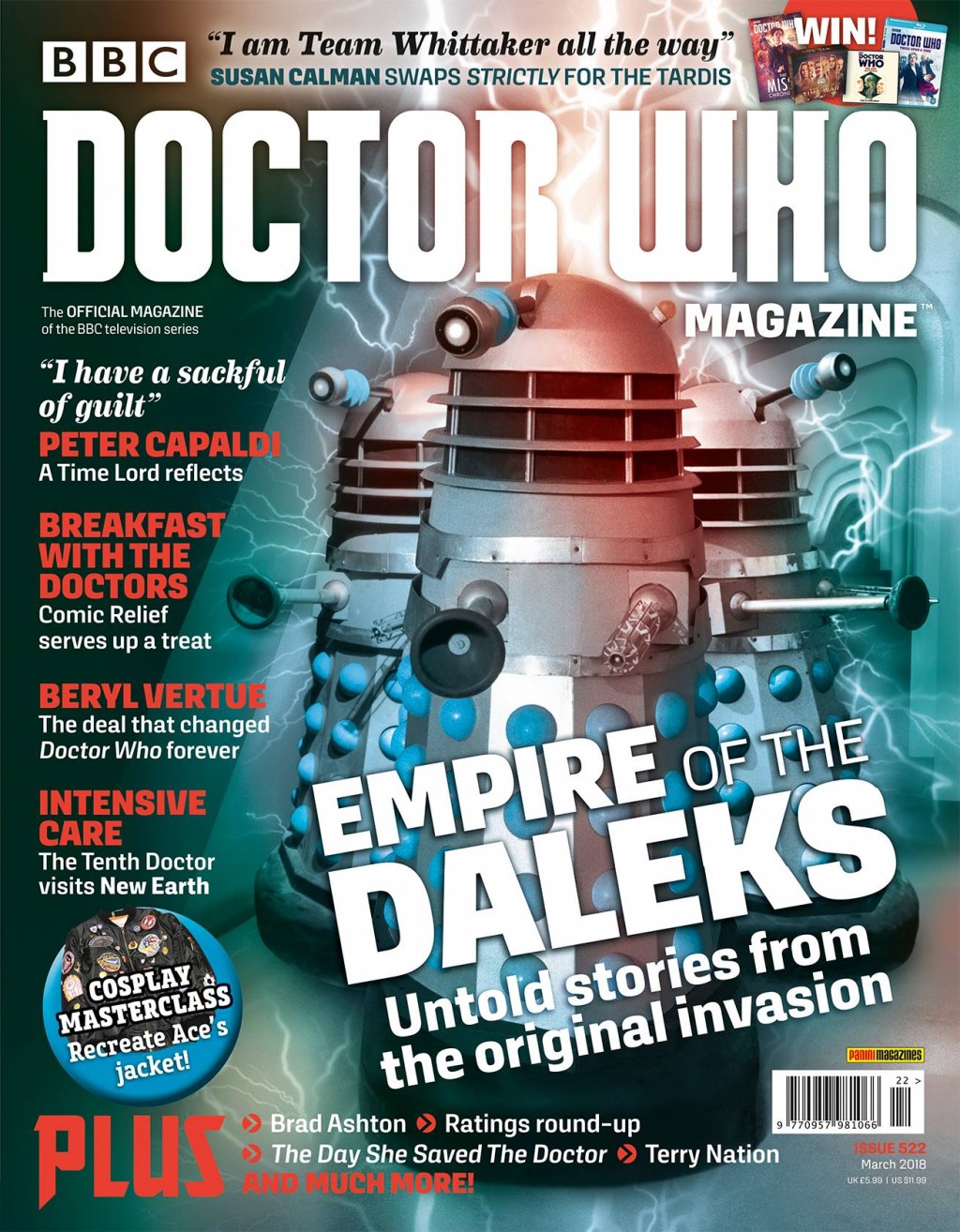 PETER CAPALDI, SUSAN CALMAN AND COSPLAY IN THE NEW ISSUE OF DOCTOR WHO MAGAZINE!
Issue 522 also sheds new light on the Dalek craze of the 1960s, as agent Beryl Vertue and writer Brad Ashton remember the roles they played. "The Daleks were really the beginning of the BBC handling merchandise," says Beryl. "None of us really knew what we were doing, so one might say we invented it."
HIGHLIGHTS OF THIS ISSUE…
BERYL VERTUE
In the 1960s Beryl Vertue was Terry Nation's agent – now she's Steven Moffat's mother-in-law! Beryl discusses an association with Doctor Who that began before the first episode was even transmitted.
BRAD ASHTON
The comedy writer recalls his friendship with Dalek creator Terry Nation and the role he played in The Dalek Outer Space Book.
TERRY NATION'S DALEK EMPIRE
How did the Daleks become so popular in 1964? And why did they suddenly disappear three years later?
WALKING DALEKS
The BBC's archive gives up its Dalek secrets – including details of the prototype toys that were never manufactured.
PETER CAPALDI
Previously unpublished quotes from the last four years reveal a new side to the man who played the Twelfth Doctor.
SUSAN CALMAN
Comedian, Strictly Come Dancing favourite and now Doctor Who writer – Susan Calman discusses her love for the Time Lord in this exclusive interview.
EMMA FREUD
The organiser of Comic Relief's 'Breakfast with the Doctors' event explains how she managed to unite seven Time Lords, two companions and a showrunner.
COSPLAY
In the first part of a new regular feature, Christel Dee presents a guide to recreating Ace's jacket.
PUBLIC IMAGE
A detailed survey of Doctor Who's television ratings during the Peter Capaldi years.
NEW EARTH
This issue's Fact of Fiction explores the 2006 story featuring the Tenth Doctor and Rose.
THE PHANTOM PIPER
Part Four of The Phantom Piper, a new comic strip adventure featuring the Twelfth Doctor and Bill.
PLUS…
The Blogs of Doom, previews, reviews, news, prize-winning competitions and your letters.
Doctor Who Magazine 522 is on sale from Thursday 8 February, price £5.99.
With thanks to those kind folks at DWM