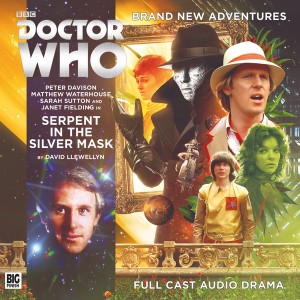 "So we're stowaways?"
"I prefer the term surprise guests."
 Ooh, I do like a good whodunnit. Mix in some SF, and the result can be great. But you have to be careful to play fair with the reader/listener. Your audience should have a chance to solve the mystery ahead of your sleuth – (their reaction when the culprit is revealed should be "Of course, how could I have missed that?" rather than "Huh?") And of course this becomes even trickier when there is the possibility that some futuristic technology was used to carry off the perfect crime. Isaac Asimov managed to pull off classic SF whodunnits in "The Caves of Steel" and "The Naked Sun", and Larry Niven has done so in numerous short stories. They succeeded because despite the futuristic setting, the solutions always relied on things the reader knew, not just the characters and their motives, but relevant facts about the operation of matter transmitters and the Three Laws of Robotics.
 Does "Serpent" manage the same standard? Well, not quite, but it does quite well.
 Like "The End of the World", it's set in an ideal situation for a murder mystery – a space station which no one can enter or leave, in which members of a rich family have gathered for the funeral of one of their little-loved members, and more importantly to find out who inherits his fortune. Almost as soon as the will has been read, his relatives start being murdered in rapid succession. It looks as though the goal is the inheritance, but is that answer too easy? After all, the obvious suspect will clearly be the last man (or woman) standing. Maybe the money is a distraction and the real objective is possession of a painting rescued from the Second World War by a time travelling archaeologist, which has mysteriously gone missing…
 I found this great fun, with the same TARDIS crew as 'Ghost Walk" investigating while, of course, coming under suspicion themselves. The Doctor claims to be ideally placed to play detective because he's "read every Agatha Christie from cover to cover" – I suspect he isn't including the Mary Westmacotts or the adventures of  Mr Harley Quin (yes, I'm afraid I actually have read every Christie) – and this adventure is, indeed, rather reminiscent of her works, with a cast of somewhat stereotyped (but amusing) suspects, and the murders suitably cunning. And without giving anything away, the culprit (or culprits) do, in fact, use a plot device that appears in at least one Christie whodunnit.
 So, why the "not quite" above? I will try to tread carefully here, not wishing to spoil anything for anyone, and just say that the solution was rather too convoluted, and the important twist involved rather more technobabble than it should have done – both in my opinion, of course. So, if you want to work out how various things were done ahead of the big reveals, well, the answer to one of the minor puzzles is blindingly obvious (and I can only assume the investigating office had never been on a space station before, since he completely missed it), while the answer to the main crime will involve careful attention to details, and possibly a few leaps of the imagination.
 That said, this is in many ways a classic Dr Who scenario, and none the worse for it. The cast carry off their roles with their usual flair, the incidental music has an 80s Who vibe, the pacing is good, there is plenty of humour and a small dash of social comment. The setting didn't grab my imagination to the same extent as the one in "Ghost Walk" but a space station, even one with every luxury on tap, inevitably tends to come across as a little sterile.
 8/10 – recommended, with a couple of minor caveats.
Written by Liz R
Synopsis
This title was released in March 2018. It will be exclusively available to buy from the BF website until April 30th 2018, and on general sale after this date.
You are cordially invited to Argentia, the galaxy's most exclusive tax haven, to attend the funeral of mining magnate Carlo Mazzini. The memorial service will be followed by music, light refreshments, and murder!
Carlo's heirs have come to say their final goodbyes (and find out how much they've inherited) but when a masked killer begins picking them off one by one, Argentia goes into lock-down, closed off behind its own temporal displacement field.
Can the Doctor, Nyssa, Tegan and Adric apprehend the murderer before Argentia – and everyone on board – is forever cut off from the rest of the Universe?
Written By: David Llewellyn
Directed By: Barnaby Edwards
Cast
Peter Davison (The Doctor), Janet Fielding (Tegan Jovanka), Sarah Sutton (Nyssa), Matthew Waterhouse (Adric), Samuel West (The Mazzini Family), Phil Cornwell (Superintendent Galgo / Zaleb 5), Sophie Winkleman (Sofia). Other parts played by members of the cast.
Producer David Richardson
Script Editor Guy Adams
Executive Producers Jason Haigh-Ellery and Nicholas Briggs