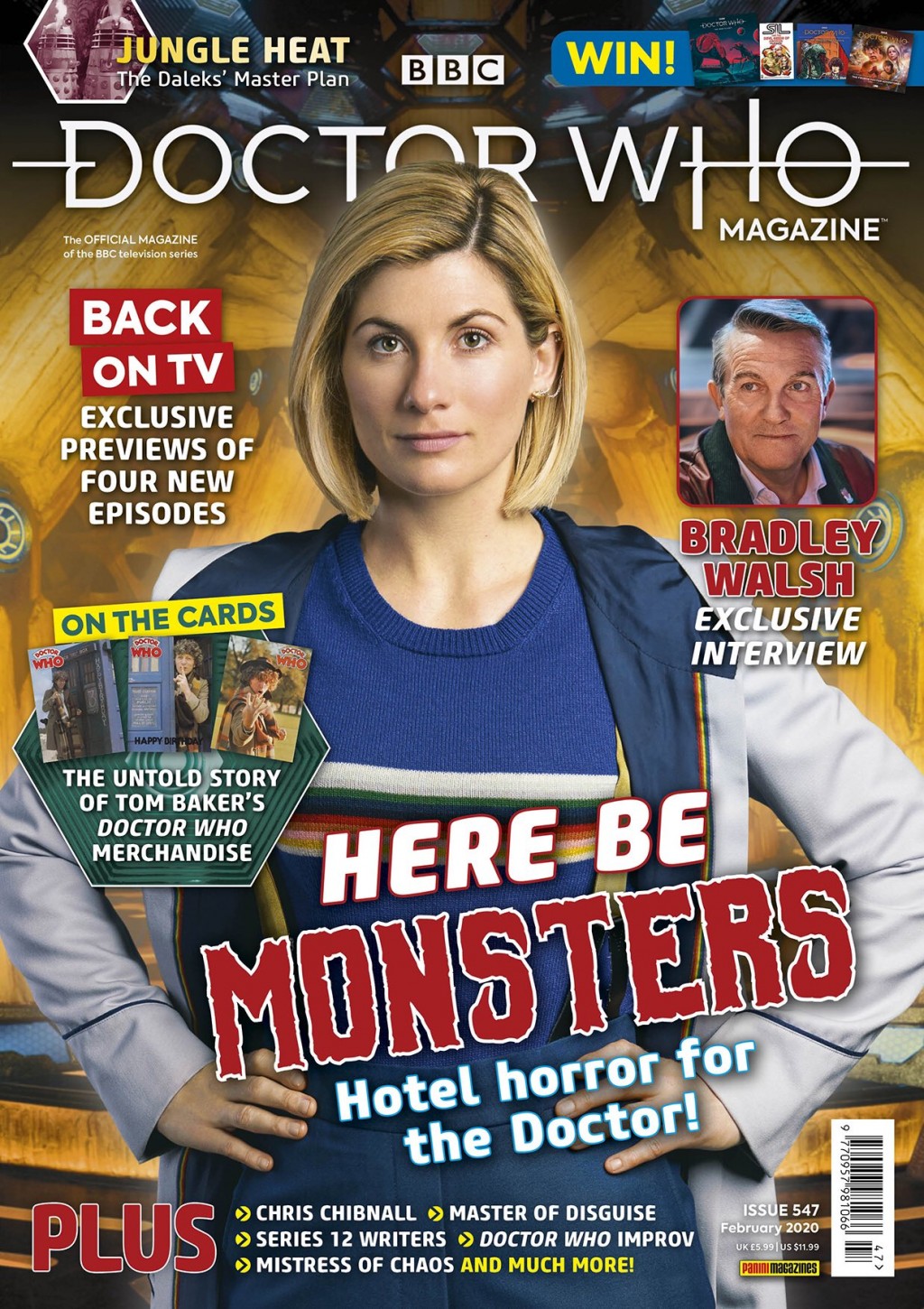 OUT OF THE TARDIS WITH BRADLEY WALSH!
The latest issue of Doctor Who Magazine also includes:
The second part of an exclusive, in-depth interview with showrunner Chris Chibnall.
Interviews with the new writers of Series 12.
Exclusive previews of the next four episodes.
The untold story of Denis Alan Print, the Doctor Who merchandise company co-owned by Tom Baker.
Doctor Who's top ten Master reveals.
Behind the scenes at the OFFSTAGE Theatre Group, whose Doctor Who plays and comedy sketches were popular at conventions from 2003 to 2013.
The Fact of Fiction begins an epic exploration of The Daleks' Master Plan.
Part Five of Mistress of Chaos, a new comic-strip adventure featuring the Thirteenth Doctor and her friends.
The answers to DWM's Christmas Quiz.
Reviews of the Season 26 Blu-ray box set and the new vinyl edition of The Web Planet.
Big Finish previews and reviews, news, prize-winning competitions, The Blogs of Doom and much more!

On sale from Thursday 9 January 2020

£5.99 (UK)

DWM 547 is also available as a strictly limited Deluxe Edition, exclusive to WH Smith and store.panini.co.uk priced £9.99.

In addition to the latest issue of DWM, the Deluxe Edition includes:

An exclusive 76-minute music CD, featuring 22 classic and rare tracks from 1963 to 1989.
A 32-page supplement, comprising classic comic-strip stories featuring the Master.
A giant double-sided poster.
A Series 12 art card.
Three Big Finish audio dramas to download.
Big Finish stickers.­­

With thanks to those kind folks at DWM.