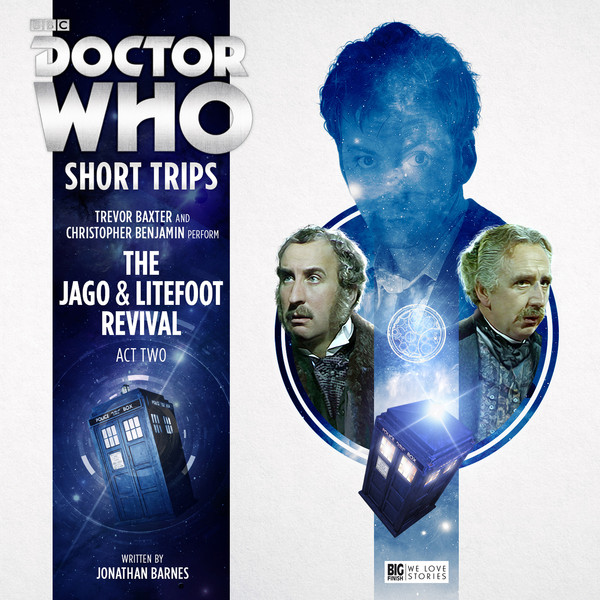 Ladies and Gentlemen, the interval is nearly over – please finish your Port and Cake and any other refreshment you have decided to partake in, our esteemed speakers Professor George Litefoot & Mr Henry Gordon Jago are about to retake the stage for act two of "The Jago and Litefoot Revival" – and should you only have joined us at the interval, act one is available HERE with a review HERE.
Well that was a short wait for act two, and here it is in all its glory, so hold no to your hats because this one hits the ground running. Literally as we rejoin Professor Litefoot on the island of Minos running away at breakneck speed with Doctor Number 10 from the "Gunslingers" he inadvertently summoned in act one. Meanwhile in London Henry and his Juggler friend are also high tailing it away from the creature in the basement of Henry's theatre on a madcap chase through the streets of London (but not the Ralph McTell ones) – but how, if at all, are the events connected? Through the dual story telling talents of Litefoot (Trevor Baxter) & Jago (Christopher Benjamin) the events taking place on Mines & in London sort of dovetail together quite nicely into a rip roaring (but very New Who) ending, proving that if you have strong characters they can thrive in any format.
As I said at the beginning of my review, this story takes place at breakneck speed and it does – but there are a few quiet character moments and like last months release it is Trevor Baxter as Litefoot as he recalls his time with the Tenth Doctor that steals the show, there is obviously a great affection there from both sides and the reason that Ten has picked this time in his life to visit George Litefoot is moving, poignant and cements the place in his hearts that the Doctor has for London's Premier Pathologist & theatre-lands erudite impresario. With mentions of The Scorchies and The Shadow Proclamation this release nicely bridges the gap and brings together "Classic" Who, "New" Who & Big Finish universes and they go together beautifully – however, one slight query, if a Doctor later than 7 meets Ellie Higson (Lisa Bowerman) would they comment that she might be a distant relation of Bernice Summerfield???
A hoot, a riot, a laugh out loud caper ending with a pint at the Red Tavern with a new friend. Everything a release featuring Jago & Litefoot should be, a great jumping on point for those not acquainted with their world, a bonus treat before season thirteen (yes THIRTEEN) of Victorian London's Investigators of the Infernal – a knockout, a hit, encore, encore I say, and by the way, a genre jumping 10/10.
Written by Ed Watkinson
Synopsis
Doctor Who: Short Trips Monthly is a series of new short stories read by an original cast member.
Release #28 is a Tenth Doctor and Jago & Litefoot story.
Fresh from another superlative season on the boards at the New Regency, we are this evening elated to welcome that master of melodrama, that sultan of story, that king of the cliffhanger Mr Henry Gordon Jago. Tonight, in his usual matchless and majestic manner, he will continue and conclude our captivating chronicle of fortune, change and revivification, with the indispensable assistance of that peerless pathologist, Professor George Litefoot.
Producer Ian Atkins
Script Editor Ian Atkins
Executive Producers Jason Haigh-Ellery and Nicholas Briggs
Written By: Jonathan Barnes
Directed By: Lisa Bowerman
Cast
Trevor Baxter (Narrator), Christopher Benjamin (Narrator)