Christmas is less than a month away and if you're searching for something to put in the stocking of the Who fan in your life – or maybe you just want to spoil yourself! – your festive friends here at Planet Mondas are delighted to point you in the direction of this veritable Christmas cracker!
Not only is it a belting read, in the spirit of the season, all the royalties are being donated to the Terrence Higgins Trust.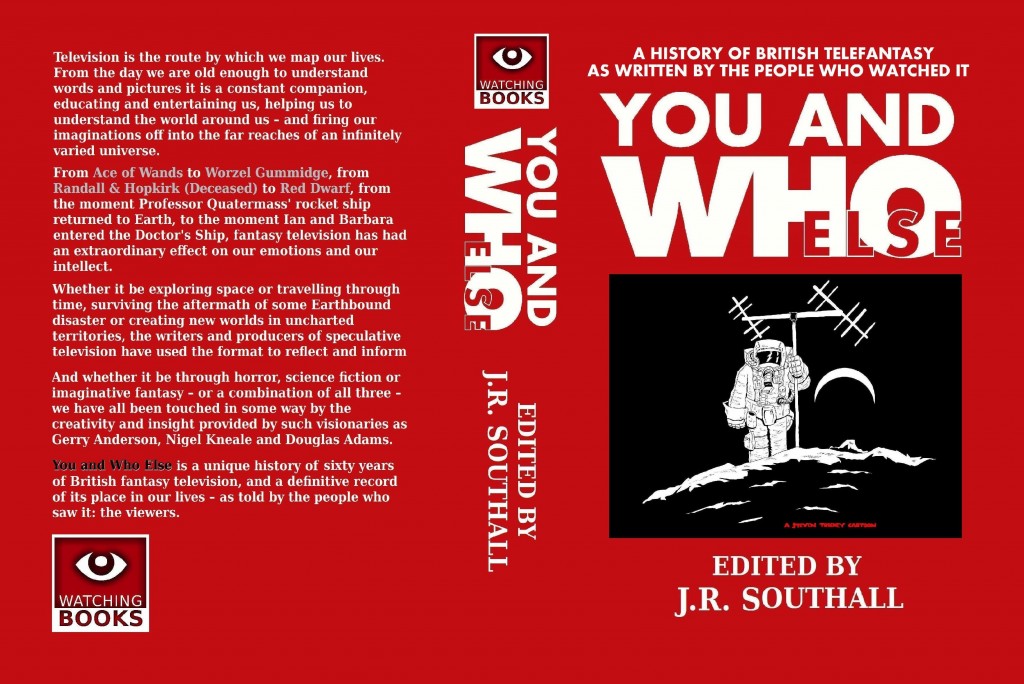 You and Who Else is a celebration of the people who watch British telefantasy, as well as a tribute to the programmes themselves
About the Editor
J.R. Southall is a columnist (on the subject of Doctor Who) for the revived Starburst Magazine, and host of their weekly Blue Box Podcast.
About the Project
You and Who was launched five years ago, and comprises a series of books about various British scifi institutions, primarily Doctor Who, in which the people who watched the programme write about their experience of having done so. You and Who: Contact Has Been Made (2013) was a two-volume story-by-story history of Doctor Who from this perspective, and Blake's Heaven (ed: John Davies) did the same for Terry Nation's most infamous TV series. Future volumes in the You and Who series will cover British film fantasy, the Thunderbirds, and the Carry On films. The You and Who books are all "crowd-sourced" and all royalties from the titles are donated to charity.
About Watching Books
With the first three You and Who volumes having fallen out of print (originally through Miwk Publishing), J.R. Southall set up Watching Books as an imprint of CreateSpace earlier this year in order to ensure they were kept permanently available – and to continue the project with further books using the tools of the modern age.
About You and Who Else
The latest volume from the You and Who project is an 800-page history of British telefantasy, 175 essays covering six decades' worth of TV sci-fi, fantasy and horror, all from the perspective of the viewer and charting the connections television fantasy has made with our lives over the years. It is essentially a viewers' guide to 60 years' worth of British television – or an introduction for Doctor Who fans as to what else they might like! The royalties from You and Who Else will be donated to the Terrence Higgins Trust, Russell T Davies' charity of choice in this, the tenth anniversary year of Doctor Who's return to our screens.
Thanks to J.R. Southall