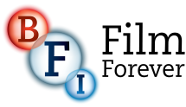 The BFI have announced their new season of programming, Sci-Fi: Days of Fear and Wonder, featuring some of the best sci-fi films and and works at events across the UK.
In December the BBC Radiophonic Workshop will be taking part in two events. Tickets will be on sale in the near future.
The Boy From Space + Panel discussion and Q&A with BBC Radiophonic Workshop – Saturday 6th December – 13:00
To celebrate our BFI DVD release of the remastered and rarely seen The Boy from Space we present a specially edited 70min version of the series. Made by the BBC education department, The Boy From Space tells the story of two children who try to conceal an alien, and has since become legendary as one of the finest children's series ever made. The eerie nature of the show was greatly assisted by the music and audio effects supplied by the BBC Radiophonic Workshop. The screening will be followed by a panel discussion with key Workshop figures Paddy Kingsland, Dr Dick Mills and Roger Limb, who provided the original music for this and many more TV series. We'll also screen clips of other rarely seen series that the BFI is releasing such as The Changes and Out of The Unknown, and our special guests will demonstrate their working methods and how they contributed to these unique productions.
Sonic Cinema Presents: Radiophonic Workshop Live – Saturday 6th December – 18:00
Taking Days of Fear and Wonder as their theme, Radiophonic Workshop have created a unique set that highlights their seminal work in TV and radio and their influence on electronic music in the UK. Drawing on the principles of musique concre?te, found sounds, early electronics, handmade synths and tape loops, the Workshop created the otherworldly soundtrack to many iconic shows, including Horizon, Quatermass, The Hitchhiker's Guide To The Galaxy… and Delia Derbyshire's realisation of the iconic Doctor Who theme. Join us for a special evening of analogue history and frequencies from the future.
For more details check out the BFI website.