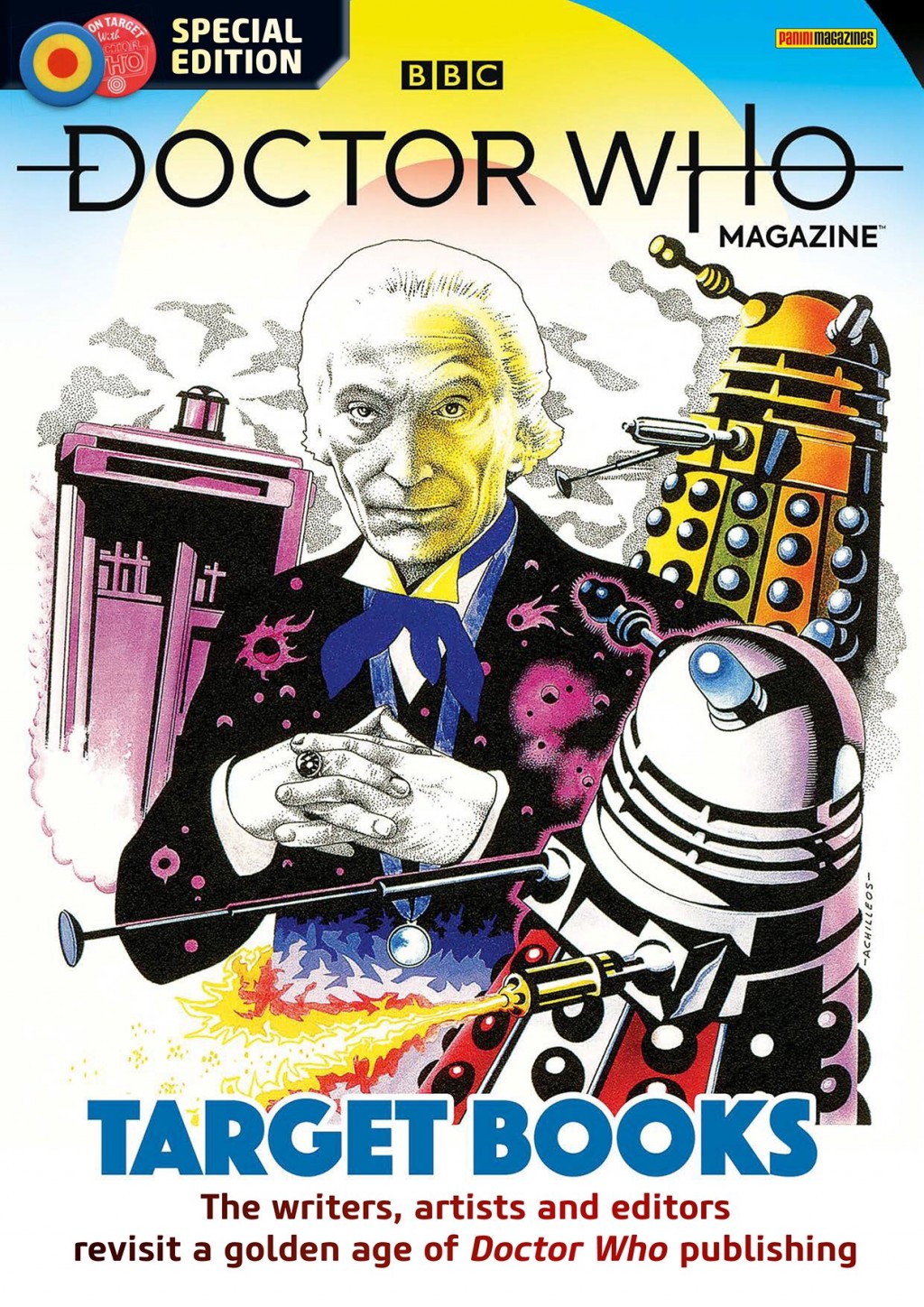 Considered a unique record of Doctor Who's history in the era before fanzines, official magazines and home video, Target books are probably the most cherished items of merchandise inspired by the show. They're certainly the most commercially successful.
From the early 1970s to the early 90s, it's estimated that Target sold over eight million novelisations and other Doctor Who books. This is the inside story of a legendary imprint, from its rise and fall to its triumphant revival in 2018.
Highlights include numerous rare images and exclusive interviews with the key players, including:
Chris Achilleos (cover artist for The Auton Invasion, The Zarbi, The Doomsday Weapon, etc)
Jeff Cummins (cover artist for The Mutants, The Horror of Fang Rock, The Talons of Weng-Chiang, etc)
Peter Darvill-Evans (Target Books editor from 1989)
Terrance Dicks (the most prolific author of Target books)
Anthony Dry (cover artist for City of Death, Rose, The Day of the Doctor etc)
John Peel (author of the novelisations of The Chase, The Power of the Daleks, The Evil of the Daleks etc)
Marc Platt (author of the Battlefield and Ghost Light novelisations)
Nigel Robinson (Target Books editor from 1984 to 1987)
Andrew Skilleter (cover artist for The Gunfighters, The Abominable Snowmen, The Stones of Blood etc)
Alan Willow (artist who provided internal illustrations for The Cybermen, Terror of the Autons, The Sea-Devils etc)
Other highlights include:
Extracts from two unpublished manuscripts
The untold story of Doctor Who Discovers, based on the archive of author Fred Newman
Details of foreign editions
The Companions of Doctor Who series
Interviews with collectors who own original Target Books artwork
… and an afterword from Pete McTighe, the writer of the 2018 story Kerblam!
On sale from Thursday 8 August 2019
£6.99 (UK)
With kind thanks to those folks at DWM.