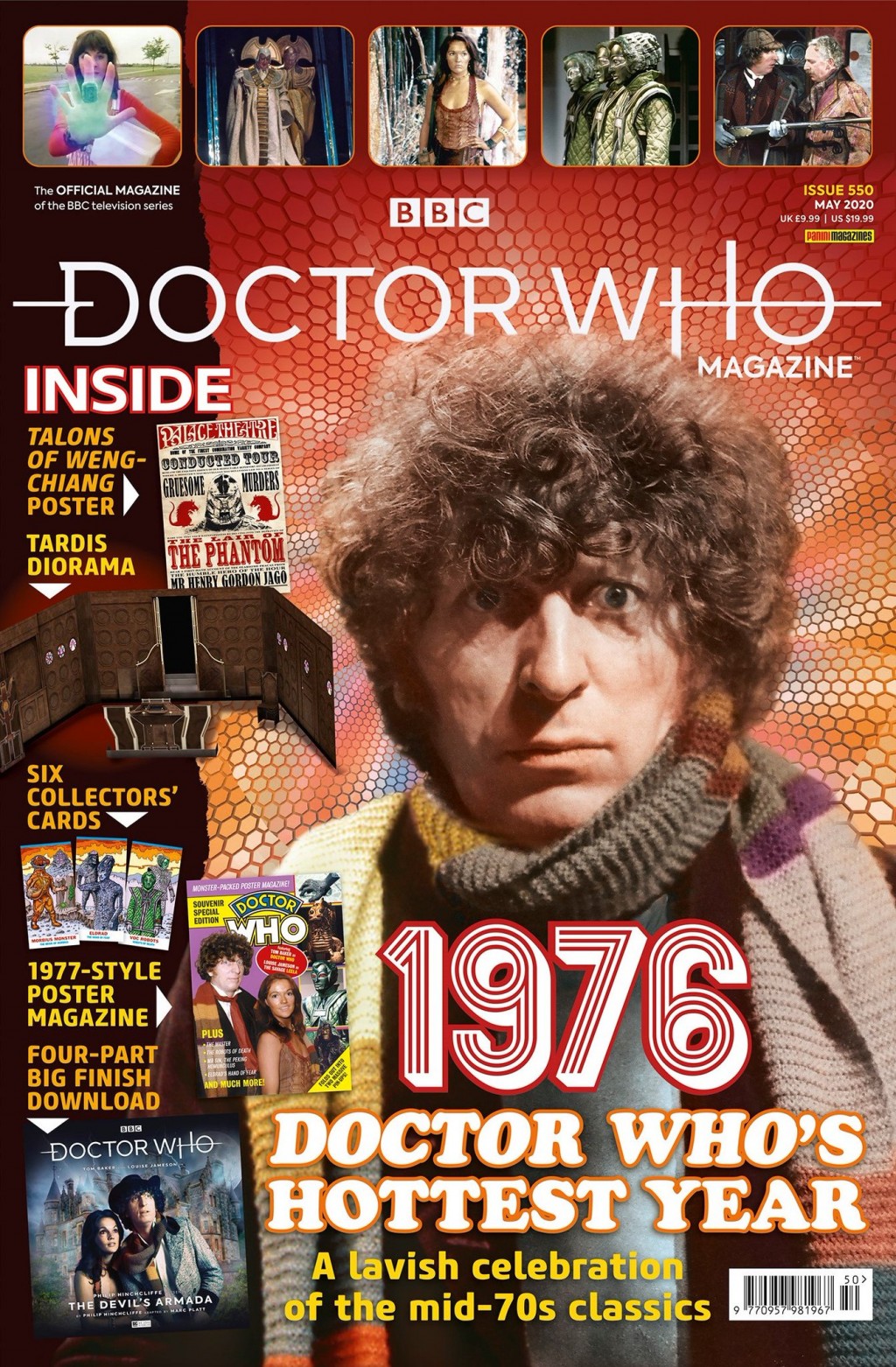 Doctor who Magazine issue 550 celebrates Doctor Who's mid-70s classics. Highlights include:
Showrunner Chris Chibnall and former producer Philip Hinchcliffe – together at the Doctor Who studio!
Director Michael E Briant describes the making of his 1977 classic The Robots of Death.
Sadie Miller remembers her mother, Sarah Jane Smith actress Elisabeth Sladen.
The Doctor Who Magazine review of Series 12 – every episode from Spyfall to The Timeless Children!
A diary and scrapbook of 1976-77 – the extraordinary months that spanned the broadcast of Season 14.
A new presentation of Dr Who and the Hell Planet, a 1976 short story by Terrance Dicks.
A review of the new, animated version of The Faceless Ones.
How Robert Holmes reimagined the Time Lords for his 1976 story The Deadly Assassin.
The Fact of Fiction explores the 2006 story Tooth and Claw.
A look at Exploration Earth: The Time Machine, a 1976 schools programme starring Tom Baker and Elisabeth Sladen.
Updates on Doctor Who luminaries, past and present, with Time and Space Visualiser.
Public Image analyses the ratings for the final episodes of Series 12.
Part Two of The Piggybackers, a new comic-strip adventure featuring the Thirteenth Doctor and her friends.
Big Finish previews and reviews, news, prize-winning competitions, The Blogs of Doom and much more!
PLUS:
1977-style poster magazine
TARDIS control-room diorama
Talons of Weng-Chiang music-hall poster
Six collectors' cards
Four-part Big Finish download
Doctor Who Magazine Issue 550 is on sale from Thursday 2 April 2020 £9.99 (UK)