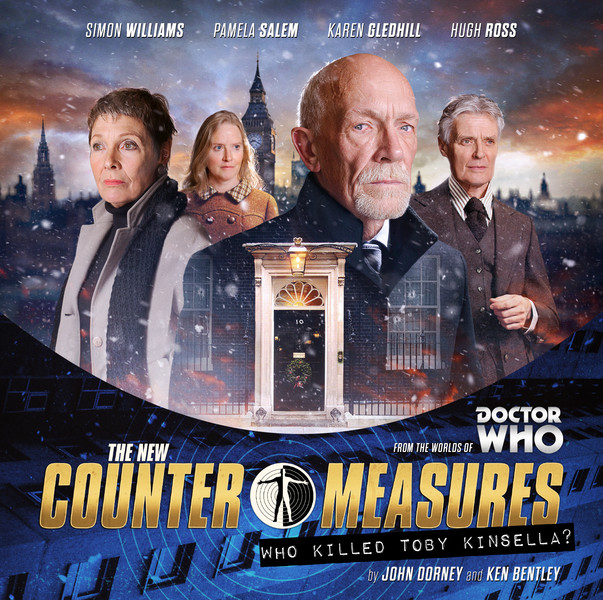 There is a film, its one of my all time favourite called "Lost Highway" directed by David Lynch. The first line is "Dick Laurent is dead" and then it goes to some very very strange places. This months very special Counter Measures release could possibly start with the line "Sir Toby Kinsella is dead" – its not a spoiler, the story is called "Who Killed Toby Kinsella", so we know he is dead. But not quite at the beginning he isn't – he is assassinated by a mystery gunman about 20 minutes in to episode one, and this in turn starts off a chain of events that lead to the "New Counter Measures" which will be with us in December. But lets look at this story, in fact lets look at Counter Measures.
 Counter Measures are a spin off from the Doctor Who TV story "Remembrance of the Daleks" featuring Captain Gilmore (Simon Williams), Rachel Jensen (Pamela Salem) & Allison Williams (Karen Gledhill) all reprising their roles. Its a very 1960's ITC style of adventure – it feels like a TV film series of the era – added to the mix for the audio spin off was the character of Sir Toby Kinsella (Hugh Ross) – the man in charge of Counter Measures, a civil servant, a slimy, amoral, but strangely very likeable character – he led Counter Measures through four box sets set around the early 1960's and made some very questionable decisions for the greater good and the security of the world.
 This special release takes place at Christmas 1973 – Counter Measures have long since been disbanded – Ian, Rachel & Allison are all in hiding under assumed names, all presumed dead – this i the Britain of power cuts, economic uncertainty and the three day week and a Prince form the Middle East Hassan Al-Nadyr (Raad Rawi) is in the UK on a trade mission but Toby Kinsella thinks his life is in danger and is killed when trying to protect him at the Opera. The death of Toby Kinsella brings the Counter Measures team out of hiding to track down the killer of their old boss and uncover a conspiracy stretching back to Toby's time in University….
 This story has a very 1970's feeling, the theme tune has been updated and the news of strained relations with the Middle East and an oil crises ground this in the early 1970's – it has the feeling of a Sunday night drama that should be on at 21:00 on the BBC rather than an ITC film series – more "Tinker Tailor" than "Man In A Suitcase"  – this feels like a real world only slightly removed from our own where the characters have real concerns and the past is a very very dangerous place that is now reaping revenge.
The Counter Measures team fit perfectly into this conspiracy thriller – but they are on the outside looking in and themselves rogue elements rather than at the centre of things.
 Although he is dead, Sir Toby's spectre haunts the proceedings – every move made is haunted by his memory and the events that unfold come from seeds that he planted in his University days.
 As a conspiracy thriller this is top notch, layers within layers within layers of plot are presented to the listener and there are many "lightbulb moments" as well as heart pounding action sequences.
But its not just a conspiracy thriller, its a pilot for "The New Counter Measures" and it certainly sets the scene and whets the appetite for more adventures of the reunited team plus a few new additions. Marching forward with confidence into the 1970's – Toby Kinsella is dead, but the New Counter Measures live on. 9/10.
Written by Ed Watkinson
Synopsis
This title was released in July 2016. It will be exclusively available to buy from the BF website until August 31st 2016, and on general sale after this date.
A special feature-length release, forging a new era for Counter-Measures!
It's Christmas 1973. Nearly ten years have elapsed since the Counter-Measures group vanished. Only one of the remaining members is officially alive. But that is about to change.
When Sir Toby is killed by an enigmatic assailant, his friends fly in from around the globe to attend the funeral where they discover that the truth of their colleague's murder lies hidden in his past.
A dangerous killer is out for revenge. A terrible assassination is planned. When ghosts walk the street, there's only one team you need.
1. Who Killed Toby Kinsella? by John Dorney
2. The Dead Don't Rise by Ken Bentley
Written By: John Dorney, Ken Bentley
Directed By: Ken Bentley
Cast
Simon Williams (Group Captain Gilmore), Pamela Salem (Rachel Jenson), Karen Gledhill (Allison Williams), Hugh Ross (Sir Toby Kinsella), Raad Rawi (Prince Hassan Al-Nadyr), Justin Avoth (Mikhail), Belinda Stewart-Wilson (Overton), Ian Lindsay (Routledge), Jot Davies (Avery), Alan Cox (Fanshawe). Other parts portrayed by the cast.
Producer David Richardson
Script Editor John Dorney
Story by Ken Bentley
Executive Producers Jason Haigh-Ellery and Nicholas Briggs