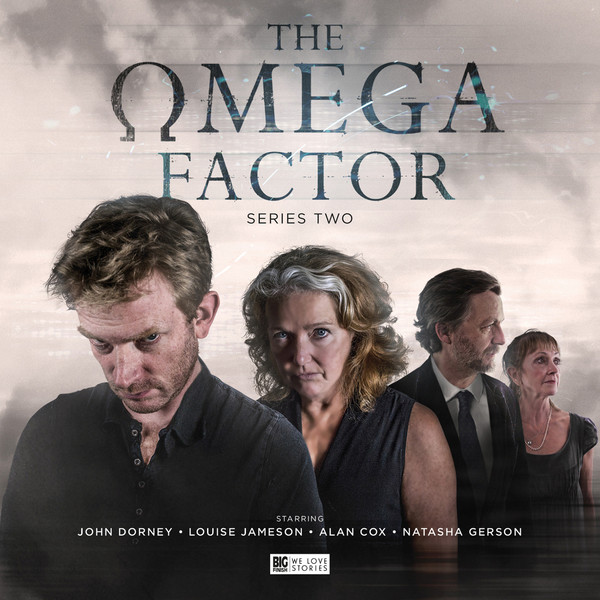 Forgive my seeming ramble, but it will make sense. Probably. As followers of my twitter feed will know (or be bored to tears with) I moved house recently, and for one whole week had no TV. No terrestrial, no Sky, no cable, no Freeview. Zilch. The only thing we had was a Blu ray player and a large collection of DVD's. Now a very good friend of mine purchased a DVD for me which he insisted I watch called "The Living and the Dead" so over the course of that first week in Colwyn Bay (for that is where I am 🙂 ) Mrs W & I watched the series and loved it, and it ended on a cliffhanger and there was going to be a second series, but there isn't now. A wasted opportunity. And this got me thinking about The Omega Factor because even though they are a century or so apart in time thematically they have a lot in common, even down to being cut short after one season. Thing is The Omega Factor was completely off my radar, I had LOVED series one (review HERE) but hadn't thought that much about it – but watching The Living and the Dead had whetted my appetite for more.
The Omega Factor is often described as a template for The X-Files, but it is a lot more than this, it has a sort of sadness and despair that the films of the late 1970's had – its not perpetually bleak but it feels born out of a world that was once all fun and games but has suddenly become dangerous – the hangover from the late 1960's and early 1970's is in full force and the world is a lot more dangerous for it. But that was the late 1970's when the TV series aired – Big Finish did something rather daring with their continuation, instead of going for a period piece they set it now and as foil to Dr Anne Reynolds (Louise Jameson) they cast John Dorney as Adam Dean, son of Tom Crane (the late James Hazeldine) – the first series from Big Finish was a resounding success, even being shortlisted for a BBC audio drama award, but could the second series keep up the momentum. The short answer is yes, the long answer is carry on reading my rambles…..
It is very difficult to do The Omega Factor justice by mere words and reflection on what I have listened to, this is a series more than any other that has to be experienced, all the episodes are intensely personal and the listener almost feels like an intruder eavesdropping on private conversations or being privy to information that they really shouldn't know – scripts are one thing, but bringing those scripts to life is another, so we as listeners are privileged to have an astounding leading duo in Louise Jameson and John Dorney, they make everything so real, they are utterly believable characters not genre tropes, both flaws, both imperfect, but with a bond that in some ways is stronger than family.
So The Omega Factor Series 2 – we return to Department 7 for four more tales of the paranormal, the strange and the downright disturbing, but this time there is a linking theme, an arc going all the way back to the original series.
2.1 Somnum Sempiternum by Phil Mulryne
Horror is an easy table to give a release – The Omega Factor is not horror, more "Creeping Dread" and nowhere more so than this opening story. Anne & Adam are called in by their boss Doyle (Alan Cox) to investigate a series of impossible suicides of high up members of the establishment including a prominent MP. This is a cruel world, cold and uncaring, a world where a young girl can be tortured, mind controlled and used as a weapon for a cause, a world where the life of someone that can be used is cheap to certain individuals who have a lot to gain. Its all about character, thats what sells this so completely, Anne & Adam are just so believable and fallible – and this is where i disagree with the X-Files comparison, that show just didn't have character like this. And what a bleak way to start a series, but what an intriguing way to suck the listener into the world of Department 7.
2.2 The Changeling by Roy Gill
You think part one left us in a dark place? No, that was just the beginning, just testing the water. Part two is altogether more sinister and more dangerous. We start with Adam being locked up in the maximum security Tollmire Prison where his cellmate is one Alasdair Reiver (Alan Francis) serving life without parole for the premeditated murder of his teenage best friend Nicholas Link, he doesn't deny it, but he has his reasons for doing it, reasons that will put Adam in mortal danger. Tense, thrilling and nail biting – like a downward spiral of despair as Anne uncovers the truth behind the death of Nicholas Link and the forces that are behind it and the reason Reiver committed murder all those years ago, sometimes the past is best left well alone…..
2.3 Let the Angel Tell Thee by Louise Jameson
You can tell a Louise Jameson script, even though the subject matter is horrific the construction is poetic and lyrical and has a sort of macabre beauty. Anne has taken on another psychic prodigy in Edward Milton MP (Gunnar Cauthery), he has similar abilities to Adam. Anne also finds time for a brief romance with his Uncle, Anthony Archer (Hugh Fraser) – but is he all he seems, and is Adam's apparently deteriorating mental health a symptom of a greater conspiracy? This episode sees the return of Morag (Natasha Gerson) who appears to Adam in fever dreams or nightmares or psychic projections warning him of danger of "1984 or 1985 or 1986 or 1987" the Morag scenes are worthy of my favourite director David Lynch, powerful, surreal imagery emblazoned across the mind of the listener – it is the most visual of episodes, and the most upsetting but also the most beautiful.
2.4 Awakening by Matt Fitton
The conspiracy will stop at nothing to get it sway, even injuring Adam's estranged partner and daughter in an accident & taking them to an exclusive private clinic – and taking Morag there at the same time in to the bargain. This really does expose the conspiracy as petty and vindictive, wanting power for powers sake and willing to sacrifice anything and anyone to get it. An action packed finale to an excellent box set.
And pause for breath – its that sort of set – the stakes keep getting raised higher and higher as our heroes are washed further in to the spiral of despair and on top of that there is a hook for a possible third series.
Big Finish have hit the proverbial home run with this set, it has everything and stayed with me – in fact I still cant stop thinking about it. Fantastic scripting, superb sound design and two incredible leads in Louise Jameson and John Dorney make it a resounding success and a 10/10 from me. (now if someone at Big Finish could get on to the BBC about a continuation of The Living & the Dead…..)
Written by Ed Watkinson
Synopsis
This title was released in April 2017. It will be exclusively available to buy from the BF website until May 31st 2017, and on general sale after this date.
Over thirty years have passed since Tom Crane left Department 7, a top secret organisation that investigates the paranormal.
Anne Reynolds now runs the operation, and for three decades their enigmatic nemesis Omega has been silent.
But that peace is about to be shattered. When Crane's son Adam is drawn into Department 7, the past quickly catches up with Anne and her team…
2.1 Somnum Sempiternum by Phil Mulryne
When a series of impossible suicides affect the establishment, Doyle calls in Department 7 to investigate. From the scene of a grisly death, Adam and Anne discover a trail that eventually leads to someone they've met before, once again running dangerous psychic experiments.
Dr Jane Wyatt is back, with an even more lethal agenda. But someone else is pulling her strings…
2.2 The Changeling by Roy Gill
Adam takes on a risky assignment, going undercover inside Tollmire Prison as a murderer's cellmate. But when the lights go out in these corridors, something else lurks in the darkness. Something that kills.
As Anne tries to unlock decades-old secrets, she discovers that some who believe in the folklore of faeries and changelings will take their faith to terrible extremes.
2.3 Let the Angel Tell Thee by Louise Jameson
Life has rarely been so kind to Anne Reynolds. Her work has gained new impetus as she investigates a psychic prodigy. And she has gained an admirer in the shape of a charming and debonair London official. But Adam is plagued, first by wasps, and then by warnings of disaster from a familiar voice.
Who is the ghost that's really haunting both their lives?
2.4 Awakening by Matt Fitton
An intricate scheme, forty years in the planning, is reaching completion. When a devastating event affects the staff of Department 7, the final pieces fall into place.
Can Anne convince Doyle that the threat from Omega is real? Where is Morag? And can anyone reach Adam in time to save him from the powers that defeated his father?
Written By: Phil Mulryne, Roy Gill, Louise Jameson, Matt Fitton
Directed By: Ken Bentley
Cast
Louise Jameson (Dr Anne Reynolds), John Dorney (Adam Dean), Natasha Gerson (Morag), Camilla Power (Dr Jane Wyatt), Alex Tregear (Kate), Alan Cox (James Doyle), Richenda Carey (Sarah Maitland), Gunnar Cauthery (Edward Milton), Hugh Fraser (Anthony Archer), Alan Francis (Alasdair Reiver), Ben Fox (Graham Stocker). Other roles performed by the cast.
Producer David Richardson
Script Editor Matt Fitton
Executive Producers Jason Haigh-Ellery and Nicholas Briggs