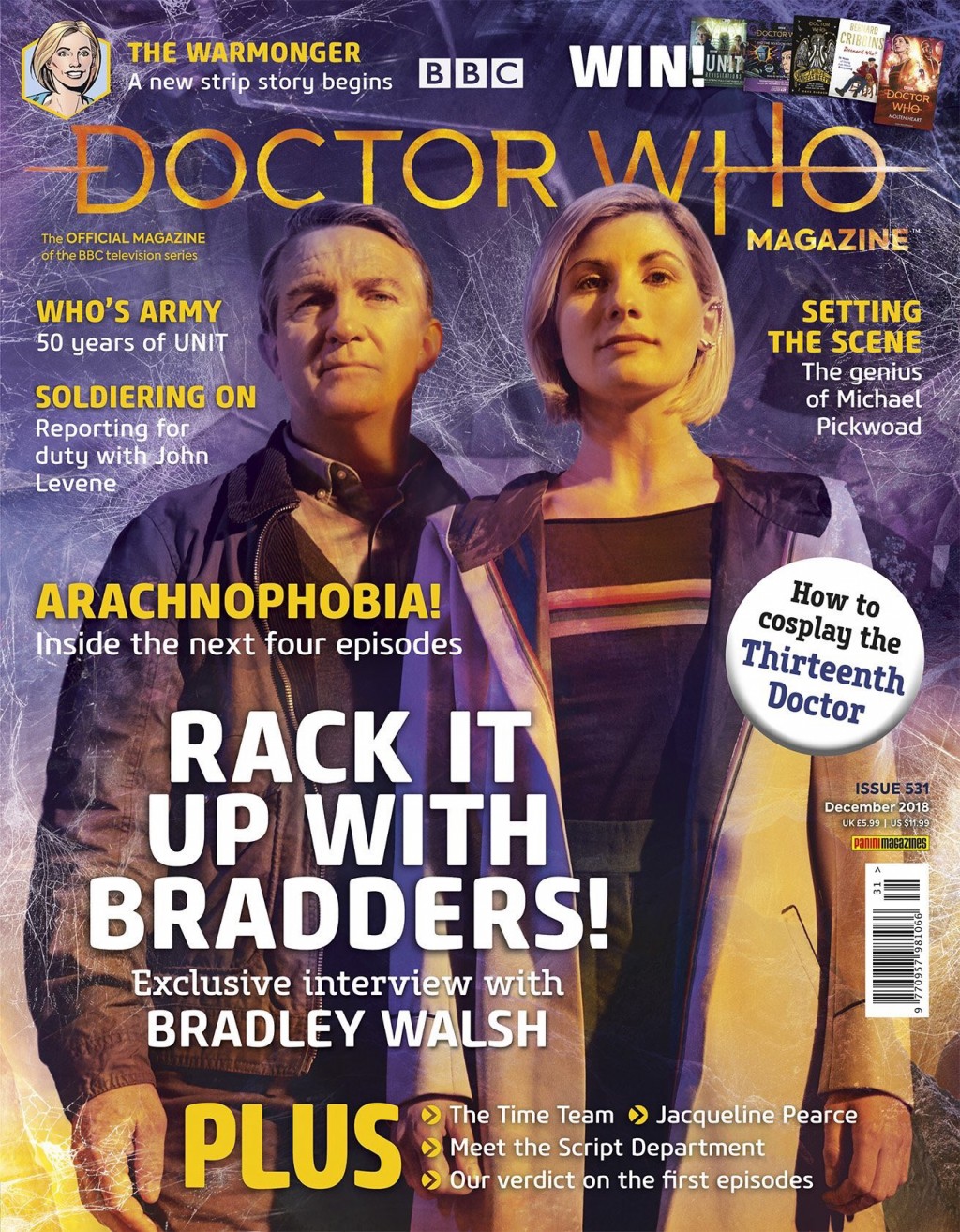 BRADLEY WALSH EXCLUSIVE IN THE LATEST ISSUE OF DOCTOR WHO MAGAZINE!
Bradley tells DWM: "My early recollections are the black-and-white days of William Hartnell and Pat Troughton… It's mind-blowing that I'm a part of it all these years later."
Also in this issue…
PREVIEWS
Exclusive previews of the next four episodes: Rosa, Arachnids in the UK, The Tsuranga Conundrum and Demons of the Punjab.
MICHAEL PICKWOAD
A tribute to the production designer who worked on Doctor Who from 2010 to 2017.
50 YEARS OF UNIT
Exploring the origins of UNIT, which made its debut in Doctor Who 50 years ago.
MILITARY MANOEUVRES
DWM investigates the role UNIT plays in Doctor Who.
JOHN LEVENE
We join UNIT's Sergeant Benton on a very special day out.
WHO'S CREW
Members of Series 11's Script and Story Department describe their roles.
WARMONGER
The Thirteenth Doctor makes her DWM comic strip debut.
JACQUELINE PEARCE
A tribute to the actress who played Chessene in 1985's The Two Doctors and more recently Cardinal Ollistra in Big Finish's War Doctor audio adventures.
THE TIME TEAM
The Team listens to some Who-related chart hits.
COSPLAY
Tips from Thirteenth Doctor cosplayers.
EPISODE REVIEWS
Our verdict on the first two episodes of Series 11: The Woman Who Fell to Earth and The Ghost Monument.
PLUS…
The Blogs of Doom, reviews, news, prize-winning competitions and much, much more!
***
Doctor Who Magazine 531 is on sale 18 October, priced £5.99.
With thanks to those kind folks at DWM