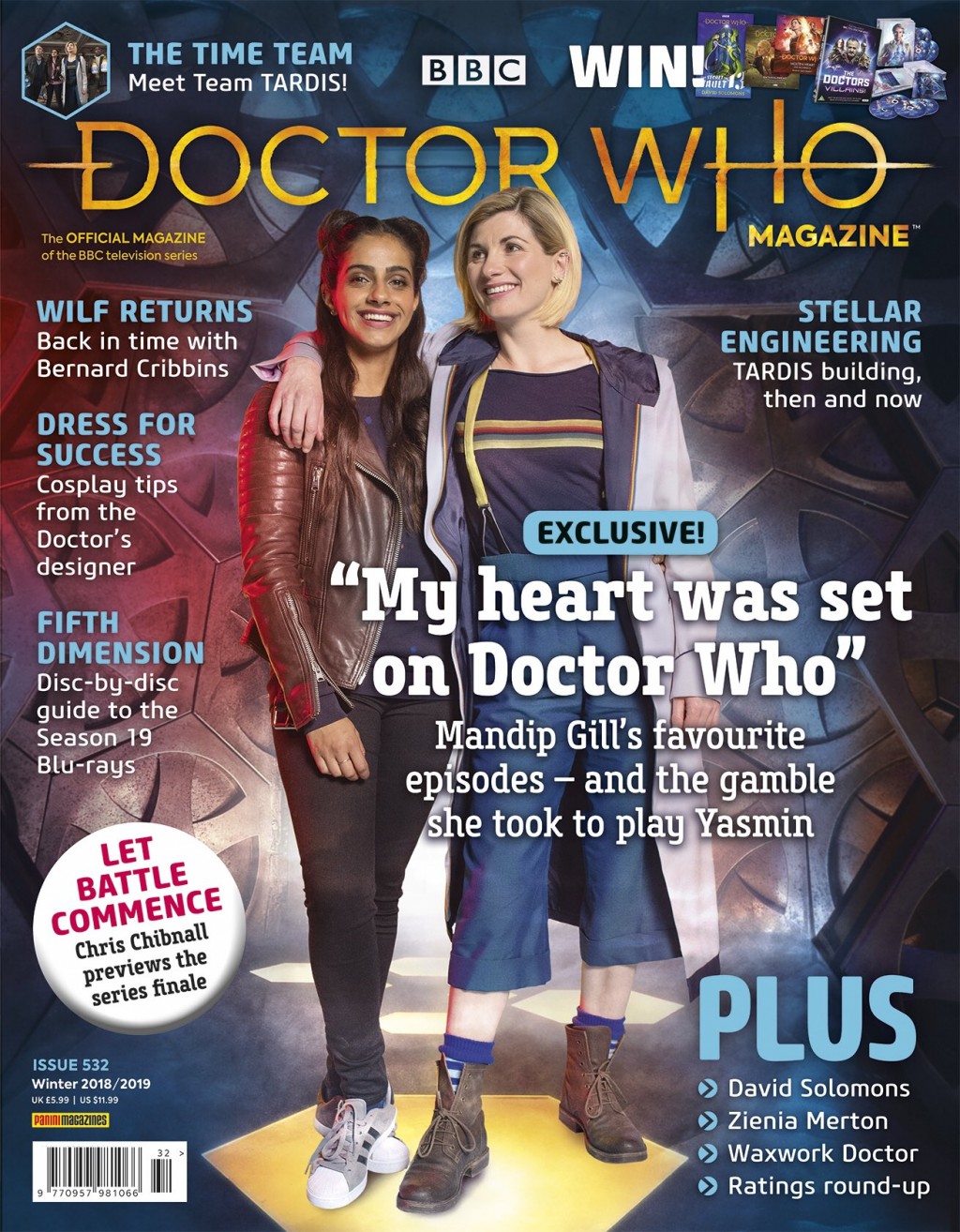 EXCLUSIVE INTERVIEW WITH MANDIP GILL IN THE LATEST ISSUE OF DOCTOR WHO MAGAZINE!
Mandip tells DWM about the risk she took to win the part of Yasmin Khan in the new series: "I turned down other jobs because I really wanted this. It was the biggest gamble. The hardest part about the audition process was that there was a six-week gap between the first audition and the second. I knew it was going to be a long wait but in that time you just don't know whether or not it's not going to go your way. A lot of opportunities came up while I was waiting but my heart was set on Doctor Who."
Also in this issue…
RATINGS
An in-depth look at Series 11's ratings.
PREVIEWS
Looking ahead to the final four episodes, beginning with Kerblam!.
MADAME TUSSAUDS
DWM attends the unveiling of the waxwork Jodie Whittaker at Madame Tussauds in Blackpool.
TARDIS EVOLUTION
The second part in a series of features looking at the evolution of the TARDIS.
TEAM TARDIS COSPLAY
Doctor Who's costume designer Ray Holman provides tips on how to cosplay members of Team TARDIS.
OUT OF THE TARDIS
Bernard Cribbins answers questions from our TARDIS tin.
WHO'S CREW
Key members of Doctor Who's current production team describe their roles.
THE WARMONGER
Part Two of a brand-new comic strip adventure featuring the Thirteenth Doctor and her friends.
THE TIME TEAM
The Time Team watches the Thirteenth Doctor's first episodes.
DAVID SOLOMONS
An interview with the author of the recently published Doctor Who novel The Secret in Vault 13.
EPISODE REVIEWS
Our verdict on Series 11 episodes Rosa, Arachnids in the UK and The Tsuranga Conundrum.
BLU-RAY PREVIEW
A look at Doctor Who: The Collection – Season 19.
PLUS…
The Blogs of Doom, reviews, news, prize-winning competitions and much, much more!
With thanks to those kind folks at DWM