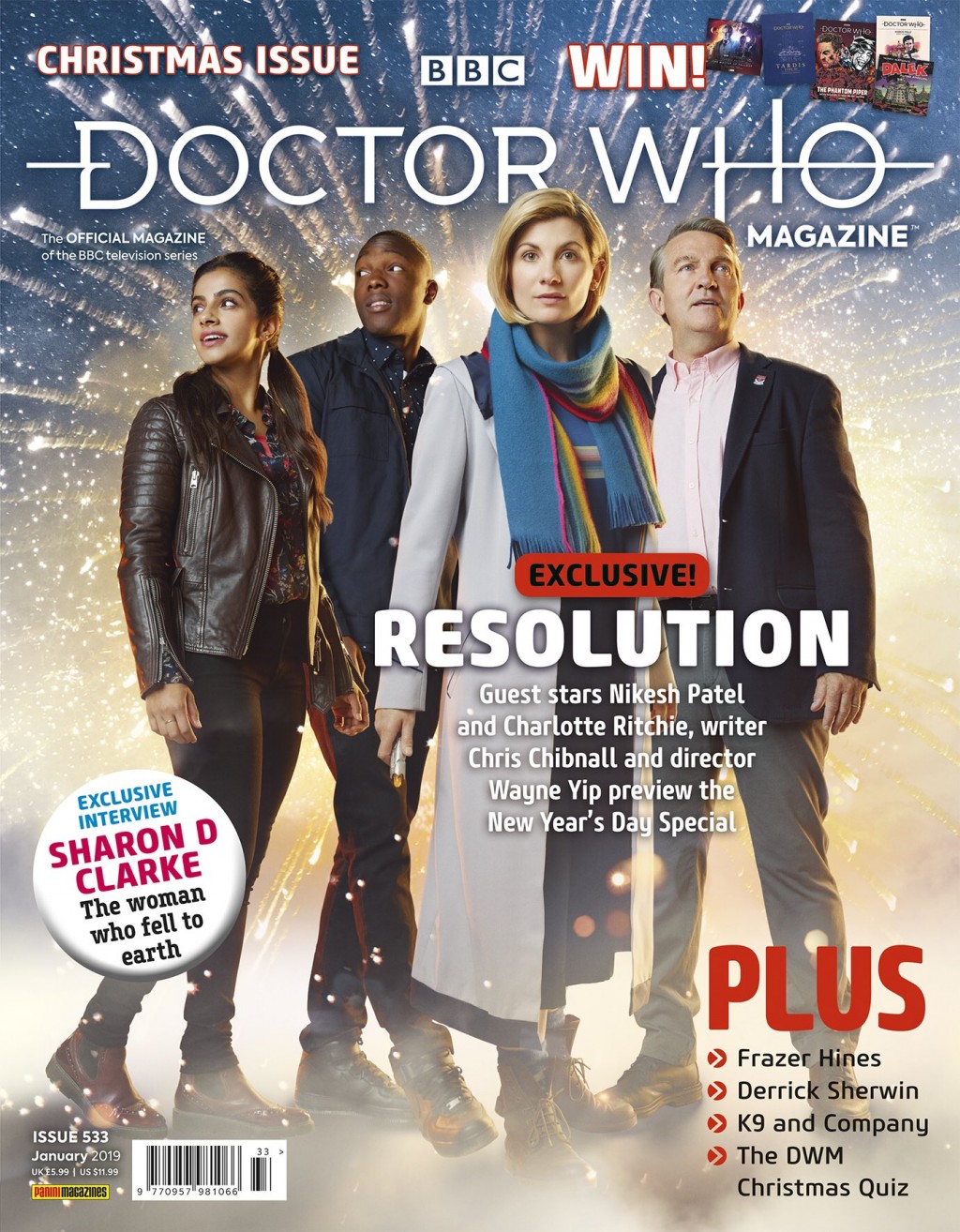 EXCLUSIVE PREVIEW OF THE NEW YEAR'S DAY DOCTOR WHO SPECIAL IN THE LATEST ISSUE OF DOCTOR WHO MAGAZINE!
The Special – Resolution – is written by Chris Chibnall. Chris says: "There's no better way to start a new year than with Doctor Who. And knowing that it would play on New Year's Day gave me the opportunity to write the New Year setting into the story.
"You want it to feel like a treat: a big, thrilling, explosive, moving, cheeky, surprising treat. Basically, you want the Special to be epic. And I promise, it's going to be epic."
Also in this issue…
RATINGS
An in-depth look at Series 11's ratings.
SHARON D CLARKE
An exclusive interview with Sharon, who played Grace O'Brien in the 2018 series.
OUT OF THE TARDIS
Frazer Hines answers questions from our TARDIS tin.
DERRICK SHERWIN
DWM pays tribute to the Doctor Who script editor and producer who oversaw the series' transition from black and white into colour.
CYBER CONTROLLER
Highlights from a previously unpublished interview with Derrick Sherwin in 2014.
THE WARMONGER
Part Three of a brand-new comic strip adventure featuring the Thirteenth Doctor and her friends.
THE TIME TEAM
The Time Team watches Doctor Who's very first Christmas Day episode, 1965's The Feast of Steven.
2018 SEASON SURVEY
Share your views on the latest series of Doctor Who.
THE FACT OF FICTION
Delving into 1981's spin-off series K9 and Company, starring Elisabeth Sladen as Sarah Jane Smith.
CHRISTMAS QUIZ
Put your Doctor Who knowledge to the test with the DWM Christmas Quiz.
EPISODE REVIEWS
Our verdict on Series 11 episodes Demons of the Punjab, Kerblam! and The Witchfinders.
PLUS…
A FREE double-sided poster, The Blogs of Doom, reviews, news, prize-winning competitions and much, much more!
***
Doctor Who Magazine 533 is on sale 13 December, priced £5.99.
With thanks to those kind folks at DWM