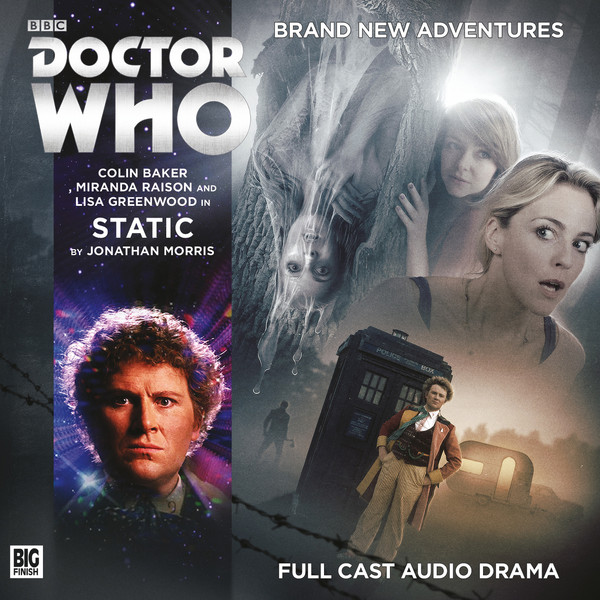 I think this one deserves a musical interlude to set the scene – give this a listen as it really complements the atmosphere of Static:
https://www.youtube.com/watch?v=ulwVN4LkgaI
Go out on a high and leave them wanting more is a good philosophy to live by and by jingo do Big Finish agree if this release is anything to go by. Just when you think the quality of the Main Range cant get any better after the superb "The Behemoth" and the sublime "The Middle" they release "Static" and ladies and gentlemen we have an instant classic on our hands. There is something rather special about the team of Old Sixie (Colin Baker), Mrs Clarke (Miranda Raison) and Flip Jackson (Lisa Greenwood) they are one of those classic TARDIS teams like Tom & Sarah Jane or Troughton with Jamie & Victoria or McCoy with Ace and Bernice – they just work as a team and are a joy to listen to. But what of the story, well dear readers, read on and prepare for a tale of terror…..
For thats what Static is at its core, its a good old fashioned Horror story imbued with a feeling of creeping dread – it has all the tropes of the genre – a small group cut off from civilisation, a creepy old man, and a warning. And of course being a horror story the warnings are not heeded one little bit.
Doctor Who has a great Horror pedigree and this story puts me in mind of Image of the Fendahl, The Satan Pit and The Chimes of Midnight with a liberal addition of computer game horror Silent Hill, classic TV series The Omega Factor and a David Lynch inspired nightmare, its all about the atmosphere and it is the atmosphere that really drives the plot along and never feels derivative.
So about the plot – arriving at a caravan site in the middle of nowhere Andy Clover (Scott Chambers) and his partner Joanna (Pippa Nixon) are greeted by site owner Percy Till (David Graham), its a grim drab old place with a surrounding mist, and Percy has just one rule – no radios, no TV's, no cassette recorders, the story is set in the early 1980's so everything is pretty analogue 🙂 being a horror story and seeing that there is a football game on Andy ignores the rule and sets up the TV from his car battery. And then the static starts, and then the voices start, and then the phone rings and then the clocks stop and then….. well, that would be telling but the tension is ramped up and up I was actually holding my breath listening. And I haven't even touched on The Doctor and his relationship with Percy Till because when he along with Mrs Clarke & Flip arrive Percy is expecting them and Mrs Clarke thinks the area is very familiar and that there was a top secret RAF base in the area, or there used to be during World War 2.
As Doctor Who stories they don't come much more visceral and dangerous than this one, as an audio it is one of the most "visual" pieces of drama I have heard in a long time, I just imagined it filmed on early 1980's faded film stock looking ever so slightly muted and washed out – it has that sort of feeling driven by the dialogue and the score. All of the cast are at the top of their game realising they have something rather special in this script by Jonathan Morris given the life it needed by director Jamie Anderson and the performance he elicits from the actors. Main Range Release of the year? oh I think so – 10/10 without a doubt and hooping for a sequel to tie up the many intriguing loose ends. Superb.
Written by Ed Watkinson
Synopsis
Deep in the heart of nowhere, near a place called Abbey Marston, there's a caravan site. The perfect place to get away from it all. Close by, there's a stone circle they used for human sacrifice in olden times. A little further afield, there's an old RAF research station, where they did hushhush things in the War.
There's only one rule: the use of radios, cassette recorders and portable televisions is strictly forbidden.
People come here to get away from it all, you see. No-one wants to hear the noise. No-one wants to hear the voices in the static…
No-one wants to hear the ghosts.
Written By: Jonathan Morris
Directed By: Jamie Anderson
Cast
Colin Baker (The Doctor), Lisa Greenwood (Flip Jackson), Miranda Raison (Mrs Constance Clarke), Scott Chambers (Andy Clover / Sergeant Webster), Pippa Nixon(Joanna Nash), Jo Woodcock (Susannah Nash), David Graham (Percy Till), Brian Protheroe (Captain Hardwick), Chris Dale (Soldiers / Static). Other parts played by members of the cast.
Producer David Richardson
Script Editor Alan Barnes
Executive Producers Jason Haigh-Ellery and Nicholas Briggs