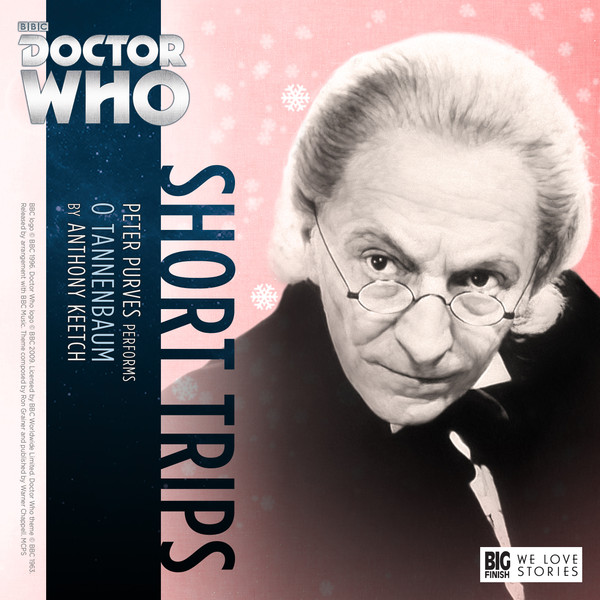 The second story to pop into my inbox to review is O Tannenbaum  a William Hartnell offering from Big Finishes short story range and is a short story based on Trees with a little nod to Varga Plants and an oblique reference to Time Meddle and written by Big Finish stalwart, Anthony Keetch. O Tannenbaum is a german traditional Christmas song and also the same musically as the red flag or "Mon Beau Sapin" in French. It is very much a Christmas story and has that feel all the way through it when you listen to it. Therefore trees, especially pine trees, are very much a part of it. Central to it.
The story and narration effortlessly conjure up the images of the cottage, the forest, and drew upon a few themes in recent and past Doctor Who. It is so well done. Effortless. There genuinely is no needless exposition or dialogue to do this. It is done so well.As a Short story it is a one hander on the acting front and it is Peter Purves and it opens with a little girl in a cottage in the middle of nowhere missing her Dad who has gone into the forest while her Grandad is in bed upstairs, sadly on his last legs. Her record player plays O Tannenbaum but keeps needing to be re-wound. This, for some reason, is dropped as the story goes on. I did wonder if there was a significance of the wind up gramophone but there was not but as the story progresses you forget about it.
At the heart of this story is an environmental message. Protect nature and it will protect you, mess with it and it is coming for you big style. Are the trees malevolent, benevolent or just misunderstood. Sometimes challenging the wisdom of elders is good but sometimes it is folly.
However any issues with the cottage dwellers all seemed to be forgotten by Mother nature when the first Doctor threatened it with a smacked bottom in a sparkling piece of dialogue that had me laughing out loud while appreciating its utter magnificence too. It is exactly the sort of thing the first Doctor would have said and bravo Anthony Keetch for writing it. Having said that Sometimes the first Doctor drifted a little into parody but here, in the speech, it was spot on and brilliantly done.
Peter Purves does an great job and makes it seem so effortless. He really brings this very good story to life. I thoroughly enjoyed this story. It does draw on many themes but it was a pleasure to listen to. HE is also ruddy good as the first Doctor capturing the essence of the late, brilliant, William Hartnell in the portrayal without ever becoming a parody or bad impression.
I really enjoyed this story. It was a great listen from start to end and I would happily listen to it again. It is not perfect but it is pretty good all the same and hits the right notes for the festive season. A very worthy 8/10 for me .
Written by Martin Kinsella
Synopsis
Doctor Who: Short Trips Monthly is a series of new short stories read by an original cast member.
Release #36 is a First Doctor and Steven story.
"Peter Purves does an great job and makes it seem so effortless. He really brings this very good story to life" Planet Mondas
It's Christmas time, there's no need to be afraid…
The TARDIS has landed in a winter wonderland and the weather outside is frightful.
A world of dread and fear and it's not just the frost that is cruel…
It's Christmas Eve, but will the Doctor and Steven get to see another one?
And of all the trees in the wood, who really bears the crown?
Producer Ian Atkins
Script Editor Ian Atkins
Executive Producers Jason Haigh-Ellery and Nicholas Briggs
Written By: Anthony Keetch
Directed By: Lisa Bowerman
Cast
Peter Purves (Narrator)